Prof. Howard Brooks Offers Tips on Viewing International Space Station
October 15, 2013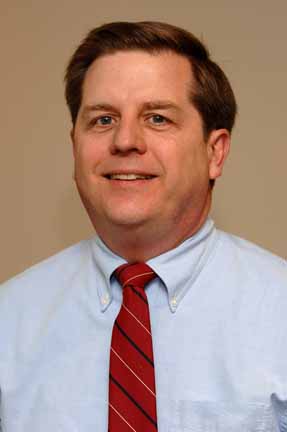 "The International Space Station has been visible to the naked eye for several nights in a row and will continue to be for another 10 evenings this month, as it cruises across the Wabash Valley night sky about 300 miles overhead," reports the Terre Haute Tribune-Star. Arthur Foulkes writes, "Between now and Oct. 25, each night will provide opportunities for a short glimpses -- usually lasting just a minute or two -- of the orbiting laboratory. Because it is visible only when reflecting sunlight, the station can be seen either shortly before sunrise or within a couple of hours after sunset."
The story quotes Howard Brooks, Paul B. Kissinger Professor of Physics and Astronomy at DePauw University. "It's pretty fun to watch," he tells the newspaper. "It'll look bright like an airplane, but you won't see the red and green flashing lights beside it … and you won't hear anything."
Foulkes adds, "Brooks, who has worked
extensively with NASA, watched the space station pass overhead last week. 'Friday night's [viewing] was beautiful,' he said."
Access the piece, which includes tips on viewing the space station tonight, at the Tribune-Star's website.
Dr. Brooks is chair of the physics and astronomy department. Learn more in this previous summary.
Source: Terre Haute Tribune-Star
Back