Center Named for Former VP Dan Quayle '69 Expands its Mission
June 8, 2013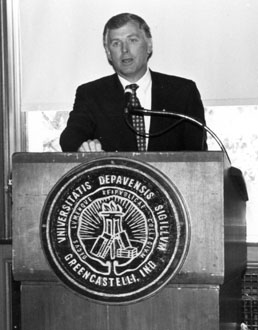 "In its 20 years of existence, Huntington's Dan Quayle Vice Presidential Learning Center has grown to offer visitors much more than the story of a hometown boy who rose to national power," begins an article in the Fort Wayne News-Sentinel. The center opened as the Dan Quayle Museum on June 17, 1993. Quayle, the nation's 44th vice president, is a 1969 graduate of DePauw University.
Ellie Bogue reports, "The museum has expanded its mission. Daniel Johns, the center's director, has taken what started as a museum for a hometown political hero and broadened its educational base to cover all 47 vice presidents and the governmental role of the office. He has collected artifacts on each, all the way through current Vice President Joe Biden. The oldest piece in the collection is 224 years old, dating back to Vice President John Adams."
The paper adds, "This doesn't mean the Quayle collection is gone, Johns said. He has about 300 storage boxes from Quayle, items that he swaps in and out of the displays.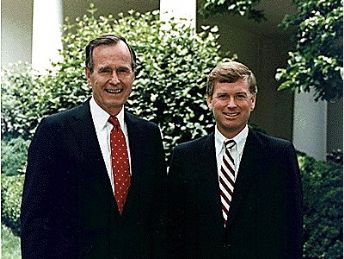 He has everything from letters and documents from Quayle's political career, to Quayle's 'Danny' sweat shirt and his little red truck from childhood as well as a whole cabinet of gifts Quayle received while visiting foreign countries in President George H.W. Bush's administration."
You'll find the complete text, and accompanying video, at the newspaper's website.
Dan Quayle, who was elected to two terms in each the U.S. House of Representatives and U.S. Senate before becoming vice president, is now chairman of Cerberus Global Investments. A member of DePauw's Athletic Hall of Fame, Quayle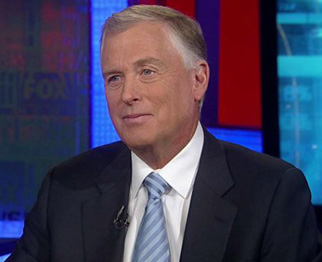 captained the Tiger golf team and was a political science major.
On October 26, 1990, the vice president was awarded his alma mater's McNaughton Medal for Public Service. A video montage of that visit, which included a speech in a jam-packed Neal Fieldhouse, is embedded below.
In June 2012, Quayle and Vernon Jordan '57 spoke at a New York City event held as part of DePauw's 175th anniversary celebration. Learn more in this previous story.
Back