Vernon Jordan '57 to Lead Howard University's Presidential Search Committee
January 14, 2014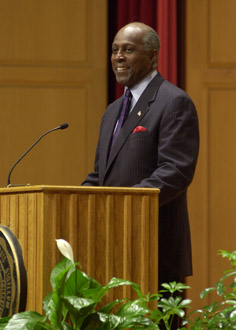 "Howard University's board of trustees announced Monday that veteran Washington lawyer Vernon E. Jordan Jr. will lead a presidential search committee charged with replacing Sidney A. Ribeau, who retired abruptly last year after months of internal debate over the condition of the university," reports the Washington Post. Jordan is a 1957 graduate of DePauw University and went on to earn his law degree from Howard in 1960.
When selecting a new president, Jordan says, "You need leadership. You need academic qualifications. You need academic experience. You need management experience."
Read more here.
Vernon Jordan served as an adviser to President Bill Clinton and is the former president of the National Urban League. He is currently the managing director of investment bank Lazard Freres & Co., and senior counsel of law firm Akin Gump Strauss Hauer & Feld LLP. He has also served as executive director of the United Negro College Fund, Inc.; director of the Voter Education Project of the Southern Regional Council; attorney-consultant, U.S. Office of Economic Opportunity;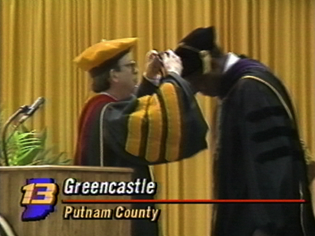 assistant to the executive director of the Southern Regional Council; Georgia Field Director of the National Association for the Advancement of Colored People, and an attorney in private practice in Arkansas and Georgia.
A political science major as an undergraduate, he is a former member of DePauw's Board of Trustees. (at left: Jordan receiving DePauw's McNaughton Medal for Public Service on May 22, 1993)
On November 18, 2011, Jordan introduced Clinton as the former president delivered DePauw's 25th anniversary Ubben Lecture. A summary of the event can be accessed here.
Back