Bret Baier '92 'Talks Tech' with USA Today
April 7, 2014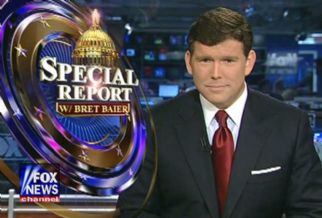 "If there's a tech angle to reporting the news, Fox's Bret Baier is there," begins USA Today's "Celebrities Talking Tech" column. Jefferson Graham writes, "The host of Fox's prime-time Special Report (6 p.m. ET), Baier also hosts a Wednesday Web "after" show to accompany it, writes a daily blog, regularly talks to viewers via Google Hangouts and is all over social media hunting for viewer feedback."
When it comes to communicating with his viewers online, Baier -- a 1992 graduate of DePauw University -- says, "I think it makes me listen more, listen to people around the country. Sometimes we don't get outside the Beltway to hear enough. This enables us to hear other people (in) other places, their concerns, even if it's just in 140 characters. And that's important. There are people who are expressing themselves that we learn from that we didn't know before, I don't think it's the fringes ideologically, it's all stripes. We've done studies about who's on there, and it's all over the board."
Access the complete column at the newspaper's website.
An English (composition) and political science double major at DePauw, Baier captained the Tiger golf team and was among the first students to work in the then-new Center for Contemporary Media. While a DePauw student, he interned with Bernard Shaw at CNN and landed his first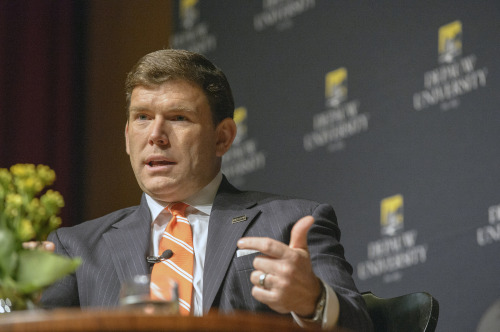 professional job at WJWJ-TV (PBS) in Beaufort, South Carolina. He also worked at WREX (NBC) in Rockford, Illinois, and WRAL (CBS) in Raleigh, North Carolina, before joining Fox in 1998.
The journalist's book, Special Heart: A Journey of Faith, Hope, Courage & Love, will be published in June.
Baier returned to DePauw for Old Gold on October 12, 2013, and spoke as part of the Timothy and Sharon Ubben Lecture Series and received the University's Distinguished Alumni Achievement Award. The talk is summarized here; a video montage is embedded below.
Back