White House Aide Bess Evans '07 to Discuss 'Six Years with President Obama' Monday
April 27, 2013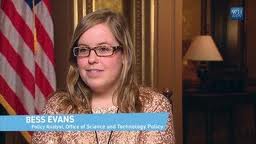 "A 2007 DePauw University graduate Monday afternoon will discuss her experiences working at the White House in an appearance titled 'Six Years with President Obama: A Perspective,' " begins an item in today's Banner-Graphic. "Bess Evans, of the White House Office of Science and Technology Policy, will speak Monday, April 29 at 4:15 p.m. in Watson Forum of the DePauw Center for Contemporary Media. The 2007 Walker Cup recipient will talk about her time working at the White House since graduating from DePauw."
The Greencastle newspaper notes, "Evans, a Media Fellow, began life after college working on the Obama presidential campaign in Iowa just days after graduation. She has since worked in the East Wing of the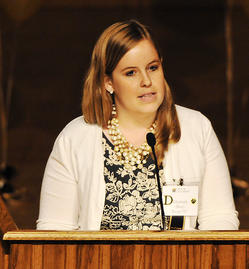 White House and with women's issues in the Attorney General's Office prior to her work in science and technology."
Access the article here.
Bess Evans was a double major in sociology and communication and a Holton Scholar. Last June, she spoke on behalf of her class -- which was celebrating its fifth reunion -- at DePauw's Alumni Convocation. Her remarks can be seen and heard below.
Back