DePauw's Sixth Fulbright Winner, Kartik Amarnath '13, to Conduct Research in Malaysia
May 13, 2013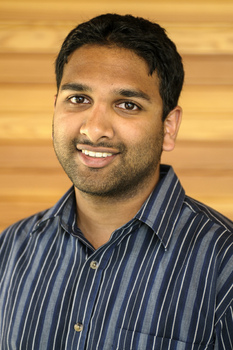 DePauw University senior K. Kartik Amarnath has been awarded a Fulbright U.S. Student scholarship for his project, "Development and Disability: Spatial Access and Agency for Kuala Lumpur's Blind Population." A biology major and anthropology and philosophy minor, Amarnath will use the grant to conduct research and study in Malaysia's capital during the 2013-14 academic year.
Amarnath is the sixth member of the DePauw University community to be announced as a Fulbright winner this spring. He is one of five members of the Class of 2013 to be awarded Fulbrights. Katlin "Katie" V. Kraska has been awarded a Fulbright U.S. Student scholarship and will conduct research and study in Indonesia during the upcoming academic year. Kendall C. Quisenberry will use an English Teaching Assistantship to teach in Malaysia, while an ETA awarded to David Tykvart will send him to the Czech Republic to teach English, and Brittni E. Crofts will use an ETA to teach English in Vietnam.
Ian B. Davidson, a professor in the School of Music at Texas State University and 1980 graduate of DePauw University, will visit Tumaini University Makumira in Tanzania two times as a visiting Fulbright Scholar.

Sponsored by the U.S. Department of State, the Fulbright U.S. Student Program is the largest American international exchange program offering opportunities for students and young professionals to undertake international graduate study, advanced research, university teaching, and teaching in elementary and secondary schools worldwide. Fulbright student grants aim to increase mutual understanding among nations through educational and cultural exchange while serving as a catalyst for long-term leadership development.
An Honor Scholar at DePauw, Amarnath's senior thesis was titled "The Metropolitan Myth: Catastrophic Language, Ecologies of Violence, and the Storm of Progress in a South Asian City." The senior says that project "has prepared me to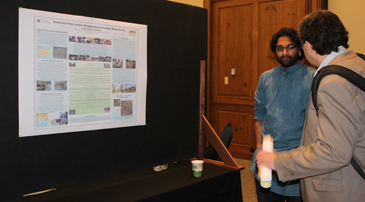 do independent research on urbanism. It is also especially fitting being that my mother is Malaysian that I get to do similar work in my country of origin."
Following his Fulbright experience, Kartik Amarnath will continue his studies at Yale University, concentrating on urban disease ecology and environmental planning with a focus on slums.
Amarnath's DePauw experience included spending the summer following his freshman year teaching chemistry, biology and English to 10th grade students in Chennai, India at the HOPE Foundation School, located in the world's largest slum resettlement housing project. Once back in the U.S., his interest in how systems of power mediate social, cultural, and environmental change in urban environments led him to conduct a long-term urban ethnography. With a National Science Foundation grant, Amarnath spent part of last summer working with an interdisciplinary team of geographers and public health specialists to examine the link between urban environmental change and health disparities in Atlanta's ghettos. Kartik has also worked at the Centers for Disease Control and Prevention (CDC), where he assisted with an epidemiological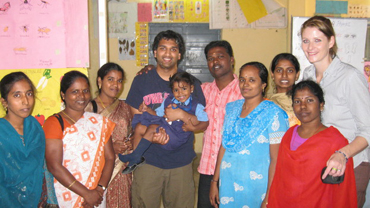 study examining the working and living conditions of migrant farm workers on the Georgia-Florida border.
Kartik Armanath's nomination led to his high school teacher, David Hoover, receiving the 2013 Battey National Educator of the Year Award.
The Fulbright U.S. Student Program currently awards approximately 1,800 grants annually in all fields of study, and operates in approximately 155 countries worldwide. Fulbright full grants generally provide funding for round-trip travel, maintenance for one academic year, health and accident insurance and full or partial tuition. Since its inception in 1946, the Fulbright Program has provided about 310,000 participants, chosen for their leadership potential, with the opportunity to observe each others' political, economic and cultural institutions, exchange ideas, and embark on joint ventures of importance to the general welfare of the world's inhabitants.
DePauw University is listed among the "Top Producers of Fulbright Awards for U.S. Students, 2012-13" in the
Chronicle of Higher Education. DePauw was also cited as one of the USA's top producers of Fulbright Fellows in the publication's 2011, 2009, 2008, 2007 and 2006 listings.
See the names of DePauw's Fulbright recipients here or visit the University's Fulbright page.
DePauw students and alumni who are interested in applying for Fulbright Awards may contact David N. Gellman, associate professor of history, or Marion "Marnie" McInnes, professor of English and women's studies and director of nationally competitive scholarships.
Back