Prof. Emeritus James Mannon Schedules Two Events to Sign His New Book, Close, But No Cigar
February 1, 2016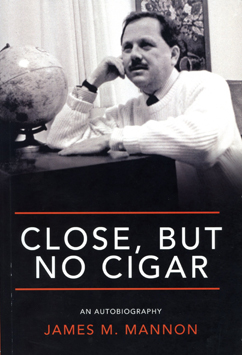 James M. Mannon, professor emeritus of sociology at DePauw University, has published a new autobiography, Close, But No Cigar.
Dr. Mannon, who taught at DePauw for 26 years before retiring in 2001, has scheduled two book signing events in Greencastle. The first will take place on Thursday, February 4, at the Putnam County Library at 6:30 p.m. On Saturday, February 13, the professor will be at Eli's Books on the courthouse square from 11 a.m. to 2 p.m. Copies of the book will be available at both events, and all are invited to attend.
"In this book I use stories, events in my life, which in the telling reveal the person I have become," Mannon notes. "Many of the stories are funny, some are sad and a few are tragic. That cannot be helped. My stories describe a life in which I struggled to be a good son, a likeable sibling, a loving husband and father, a good colleague and friend, and a faithful servant of my God. And I succeeded more or less well."
He writes that in reviewing his life's successes, challenges and "close but not quite encounters ... A life of love without greatness is, I realize now, much preferable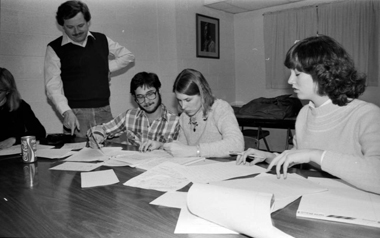 to greatness without love."
The retired educator says the text includes recollections of campus life at DePauw in the 1970s, '80s and '90s. (at left: Professor Mannon with students during Winter Term, January 1982)
Jim Mannon previously published Emergency Encounters: EMTs and Their Work; Measuring Up: The Performance Ethic in American Culture; Caring for the Burned: Life and Death in a Hospital Burn Center and Epilogue: Poems of Love and Loss.
Back