Senior Maria Haag Wins Undergraduate Biology Research Competition
April 27, 2013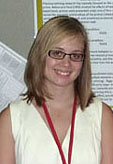 DePauw University senior Maria T. Haag emerged as the winner of an undergraduate research competition which took place this week at Experimental Biology (EB) 2013, an annual conference for biologists in Boston. Haag's research on heart regeneration in goldfish, conducted under the guidance of Pascal Lafontant, associate professor of biology at DePauw, won the Undergraduate Student Poster Presentation Award, presented by the American Association of Anatomists (AAA) and the Advisory Committee of Young Anatomists (ACYA).
Another DePauw senior, Adedoyin Johnson, was a finalist in the competition. They were two of 12 students from North America invited to present and defend their research at the conference.
"I'm working on this lab with Dr. Lafontant, but it's my project. I'm the one who presents it," Haag told The DePauw. A biology and political science double major and Science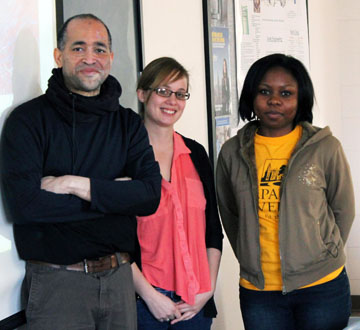 Research Fellow, Haag says, "When you go to a larger research institution you're just helping out a grad student: you don't experience that same ownership of a project." (photo, l-r: Prof. Lafontant with Haag and Johnson)
Lala Tanmoy Das '12 won the Undergraduate Student Poster Presentation Award in 2011 as a DePauw junior.
EB 2013 took place April 20-24 at the Boston Convention & Exhibition Center and attracted nearly 14,000 scientists and exhibitors representing six sponsoring societies and 30 guest societies. The multidisciplinary, scientific meeting featured plenary and award lectures, pre-meeting workshops, oral and posters sessions, on-site career services and exhibits of an array of equipment, supplies and publications required for research labs and experimental study.
Back