Noted Physicist and Bestselling Author Michio Kaku Coming for May 5 Ubben Lecture
March 28, 2014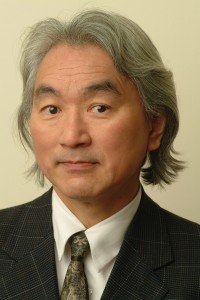 Michio Kaku, an internationally-renowned theoretical physicist whose new book, The Future of the Mind, is #2 on this week's New York Times list of bestsellers (hardcover nonfiction), will provide a glimpse into the future when he visits DePauw University on Monday, May 5. Dr. Kaku, called "a superhero of the incomprehensible" by Cosmos magazine, "has the rare ability to take complicated scientific theories and turn them into readable tales about what our lives will be like in the future," notes USA Today. He will present a Timothy and Sharon Ubben Lecture at 7:30 p.m. in Kresge Auditorium, located within the Green Center for the Performing Arts.
Like all Ubben Lectures, the event is presented free of admission charge and is open to everyone. The speech will be followed by a question-and-answer session and a book signing event.
Kaku, one of the most widely recognized figures of science in the world today, is the co-founder of string field theory (a branch of string theory) and continues Albert Einstein's search to unite the four fundamental forces of nature into one unified theory. He holds the Henry Semat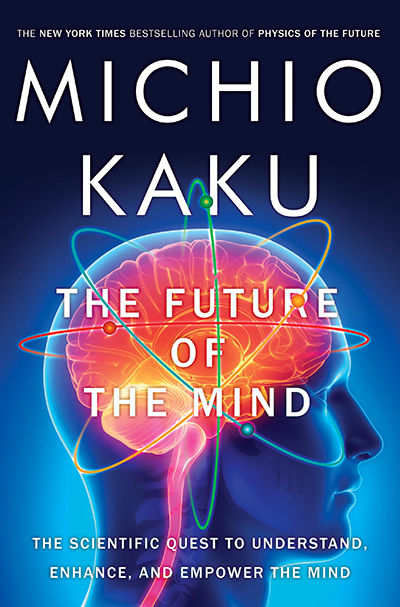 Chair in Theoretical Physics at the City University of New York, has written several bestselling books, is the science correspondent for CBS This Morning and host of the radio programs Science Fantastic and Explorations in Science.
"We have learned more about the brain in the last fifteen years than in all prior human history, and the mind, once considered out of reach, is finally assuming center stage," Professor Kaku writes in The Future of the Mind: The Scientific Quest to Understand, Enhance, and Empower the Mind, which was released in February and topped the Times list.
"This deeply fascinating book ... explores what might be in store for our minds: practical telepathy and telekinesis; artificial memories implanted into our brains; and a pill that will make us smarter," noted Booklist. "He describes work being done right now on using sensors to read images in the human brain and on downloading artificial memories into the brain to treat victims of strokes and Alzheimer's. SF fans might experience a sort of breathless thrill when reading the book -- This stuff is happening! It's really happening! -- and for general readers who have never really thought of the brain in all its glorious complexity and potential, the book could be a seriously mind-opening experience."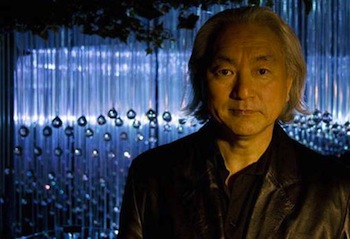 Scientific American called the book "Epic in its scope and heroic in its inspiration," while the San Francisco Chronicle praised it as "Mind-bending ... Kaku has a gift for explaining incredibly complex concepts, on subjects as far-ranging as nanotechnology and space travel, in language the lay reader can grasp."
The professor recently discussed The Future of the Mind with Jon Stewart on his Daily Show. The interview is embedded below.
As a high school student, the personable Kaku assembled a particle accelerator in his parents' garage for a science fair project. He graduated summa cum laude and first in his physics class from Harvard University and received his Ph.D. in physics from the University of California at Berkeley. He has been a professor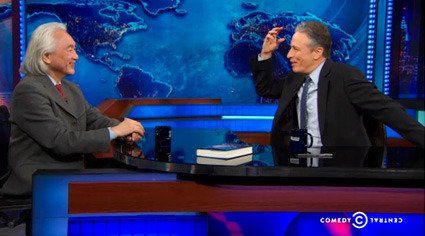 at CUNY for almost 30 years.
Dr. Kaku's previous books include two additional New York Times best-sellers, Physics of the Future and Physics of the Impossible, as well as Hyperspace and Visions: How Science Will Revolutionize the 21st Century.
According to Barnes & Noble, "Reading one of his books is like hijacking Kaku's oversized intelligence and enthusiasms to stoke your own sense of wonder."
As Booklist noted of The Future of the Mind, "Facts to ponder: there are as many stars in our galaxy (about 100 billion) as there are neurons in your brain; your cell phone has more computing power than NASA had when it landed Apollo 11 on the moon. These seemingly unrelated facts tell us two things: our brains are magnificently complex organisms, and science fiction has a way of becoming reality rather quickly."
And as Kaku writes in the book, "To understand the precise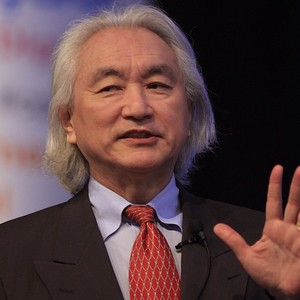 point when the possible becomes the impossible, you have to appreciate and understand the laws of physics."
Established in 1986 through the generous support of 1958 DePauw graduates Timothy H. and Sharon Williams Ubben, the Ubben Lecture Series was designed to "bring the world to Greencastle." Three Ubben Lectures have already been presented during the current academic year: human rights advocate Martin Luther King III spoke on November 21; Fox News Channel anchor and 1992 DePauw graduate Bret Baier visited on October 12; and former congressman and three-time presidential candidate Ron Paul delivered a September 10 speech.
A planned March 2 address by TOMS founder and CEO Blake Mycoskie was cancelled by wintry weather and could not be rescheduled.
Previous Ubben Lecturers have included Bill Clinton, Margaret Thatcher, Elie Wiesel, Benazir Bhutto, Mikhail Gorbachev, Tony Blair, Jane Goodall, General Colin Powell, Spike Lee, John Major, Shimon Peres, Barbara Bush, Mike Krzyzewski, Oscar Arias, F.W. de Klerk,Willy Brandt, Peyton Manning, Ambassador L. Paul Bremer, Mitch Albom, General Wesley Clark, George Will, Andrew Young,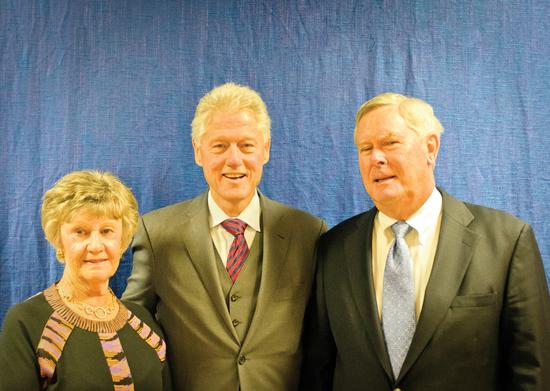 Lee Hamilton '52, Jimmy Wales, Ken Burns, Bob Woodward, Oliver Sacks, Gwen Ifill, Ross Perot, Paul Volcker, Karl Rove, Howard Dean, Doris Kearns Goodwin, Eric Schlosser, Ralph Nader, Ferid Murad '58, Harry Belafonte, Leymah Gbowee, Sam Donaldson, David McCullough, Carl Bernstein, Jane Pauley, Alan Simpson, Julian Bond, Jason Reitman, Candy Crowley, Paul Tsongas, Todd Rundgren, Norman Ornstein, William J. Bennett, ice cream entrepreneurs Ben Cohen & Jerry Greenfield, Jim Alling '83, Sister Helen Prejean, Seymour Hersh, Rebecca Skloot, Naomi Wolf and many others. (photo: Sharon and Tim Ubben with President Clinton; November 18, 2011)
To view a complete roster of Ubben Lecturers -- which includes links to video clips and news stories -- click here. Video montages of many events are available on YouTube.
A video history of the Ubben Lecture Series was created in 2008, and can be accessed here.
Back