Former VP Dan Quayle '69 to Give Commencement Address at Syracuse U College of Law
April 7, 2012
Dan Quayle, the 44th Vice President of the United States and 1969 graduate of DePauw University, will deliver the commencement address this spring at the Syracuse University College of Law commencement ceremony. The event will take place May 11 at the Carrier Dome.
Read more here.
A political science major as an undergraduate at DePauw, Quayle went on to earn a degree from the Indiana University School of Law. He was elected to two terms each as a U.S. Congressman and Senator before becoming vice president under President George H.W. Bush in 1989. The author of three books, including Standing Firm, Quayle is now chairman of Cerberus Global Investments.
A member of DePauw's Athletic Hall of Fame,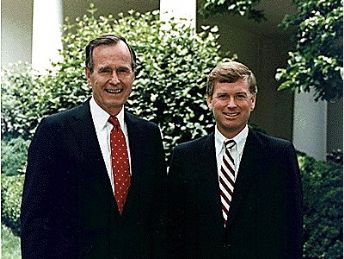 Quayle captained the Tiger golf team. On October 26, 1990, the vice president was awarded his alma mater's McNaughton Medal for Public Service. On May 22, 1982, as a United States Senator, Quayle provided the commencement address at DePauw.
The former vice president and Vernon Jordan '57 will lead a special 175th anniversary celebration for DePauw at the Waldorf Astoria in New York City on June 12. Learn more here.
Back