Senior is in Sochi, Assisting NBC's Today with Winter Olympics Coverage
January 29, 2014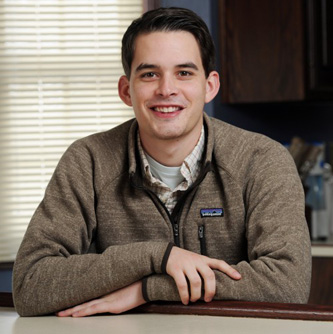 "I'm lucky. I feel like I saw a lot of shooting stars right in a row," says Brian Alkire. The DePauw University senior is in Sochi, Russia, where he'll assist NBC's Today with its coverage of the Winter Olympics. "There are so many people who would love to have the opportunity to do this," Alkire tells his hometown newspaper, the Daily Journal of Johnson County, Indiana. (top photo: Scott Roberson/Daily Journal)
"Alkire will be part of the production team for Today throughout this year's games," reports Ryan Trares. "He'll be a runner, meaning he'll be a go-to assistant in the creation of individual show segments and anything else that needs done. The DePauw University senior will work side-by-side with anchors Matt Lauer, Savannah Guthrie and Al Roker, while taking in one of the greatest spectacles in sports."
A communication major and Media Fellow at DePauw, Alkire will remain in Russia through February 24. He's currently working to "scout shooting locations, set up production facilities and prepare for when the competitions start. Other than that, he's unsure of what he'll be doing," according to the paper.
"I'm learning as I go," says Alkire, who previously interned with NBC's Late Night with Jimmy Fallon and CBS' 60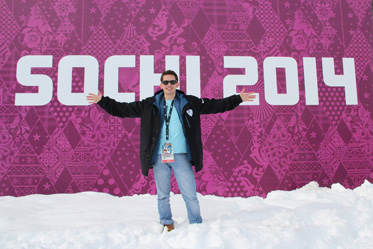 Minutes as well as with Discovery Communications, where he assisted on the hit show Shark Tank. "There's never been an internship or job in television where I've gone in and known what I'm doing," he states. "I'm going in with applicable skills in the field and confidence and go from there."
He tells Trares, "TV is such an interesting industry. Every day is different, and you never know what you'll be doing. I've been fortunate to have a good base of skills. I've thrown myself into unfamiliar situations, and I have the confidence now to do these kinds of things."
Alkire has also interned at DePauw for Jonathan Coffin '06, assistant to the president and director of strategic communications, creating videos for the University. "He's clearly talented, clearly has an eye for video work and is a pretty accomplished worker," Coffin says of Alkire. "This is a reflection of what Brian and what our students can accomplish. He's a very well-rounded, educated college student, but he's also developed an expertise that's specific to television. We're very proud of him."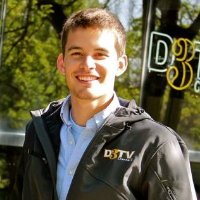 The article points out that Alkire received assignments from his DePauw professors in advance and is keeping up with his classes while working in Sochi. He'll return to campus in a month's time, with an eye toward working full-time in the TV industry after he graduates in May.
The complete text is available to subscribers at the Daily Journal's website.
Back