From Sea Turtles to Temples and Beyond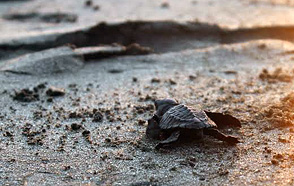 February 17, 2014
During a night patrol monitoring sea turtle activity in Costa Rica, Kristen B. Dickman '15 was amazed to witness a sea turtle laying eggs. Even more incredible was that she caught the eggs – all 96 of them – to transfer to a hatchery. Dickman was participating in a Winter Term in Service trip last month – Costa Rica: Macroeconomics vs. Microfinance: Cowboys vs. Beach Boys led by Aaron B. Dziubinskyj, associate professor of modern languages (Spanish), and William J. Field, professor of economics and management.
Each year faculty and staff members design off-campus Winter Term courses that take place during January, providing students with opportunities, which, many say, they wouldn't have had otherwise. This year, students chose from 20 off-campus Winter Term courses and five Winter Term In Service trips.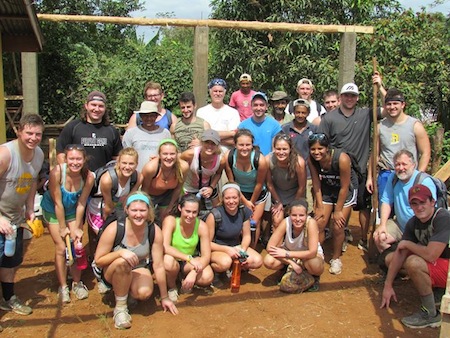 Professors Dziubinskyj and Field (with their students at left) developed a course focusing on the evolution of the relationship between the United States and Latin America – from the beginning of the 20th century to the present. They chose Costa Rica to look at the economic, social and environmental responses to the varying degree that globalization has had an impact on these areas.
To better understand how the process of globalization affects the lives of typical Central American families, they focused on three types of U.S. soft power: global economic trade, social development assistance and tourism, and their ongoing effects.
Matt J. Rosensteele '07, executive director of Restoring Our Watershed, coordinated their projects. Students began their work in La Florida, an agricultural village, building a meeting room for a community bank, and they spent the second week in Playa Junquillal, a tourism-dependent beach town, with a sea turtle conservation group.
Dickman, a communication major and Spanish and education minor, chose the trip because of her interest in community service and for the opportunity to speak Spanish. "My Spanish definitely improved, and it has given me more of a reason to be motivated in the classroom because now I have a cultural experience that I can relate back to," she says.
It was on her last patrol that she caught the sea turtle eggs. "The turtles dig a hole and bury them," she explains. "This organization moves the eggs into a fenced-in hatchery so that they can't be poached by other animals or by people." Dickman says their group was lucky because she met another volunteer who after five months had not witnessed nesting.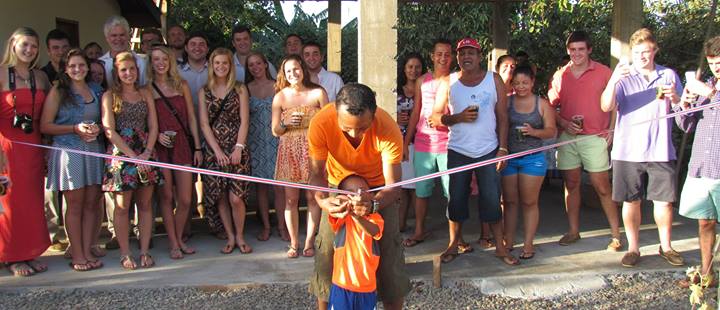 While that was a highlight, Dickman also explains the feeling of getting to know her home-stay family and the Costa Ricans she worked with to build the community meeting room (photo of ribbon cutting above). "It was incredible meeting all of the people, and I was impressed by their sense of community and the pride they took in everything they did," she says.
Brooke E. Cox, systems librarian, and Tiffany A. Hebb, coordinator of instruction for libraries, had designed a course, Libraries and Museums: Cornerstones of Culture, to explore how different cultures have shaped the ways their histories are preserved and shared.
T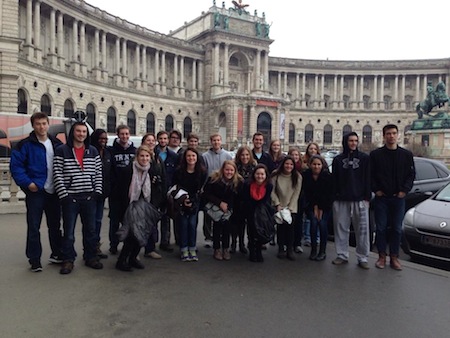 hey visited three cities – Amsterdam, Prague and Vienna ­– in two weeks with 23 students. The cities were chosen based on their libraries and location, targeting a range of public, academic and specialized libraries. Their sites included art museums, an über modern university library, holocaust museums and memorial, a monastery library, and national libraries and history museums – all important examples of the different ways collective memory can be constructed.
"When planning the course, we kept coming across dire quotes – libraries are ending and print is dead," Cox explains. "These places matter in different ways. Public libraries are more about the sense of community that they create and the services they offer. Many of the historic libraries we went to were more about the culture of the space maintained and how they are preserving history. Museums are a little different in the reason they matter. There is more of an 'ahh' feeling when you see something in person that you don't get by looking at a photograph."
"We've been reading the journal entries, and some students commented that they weren't that interested in art, but when they saw a Van Gogh painting, for example, it really clicked for them in a way that it wouldn't have otherwise," Hebb says.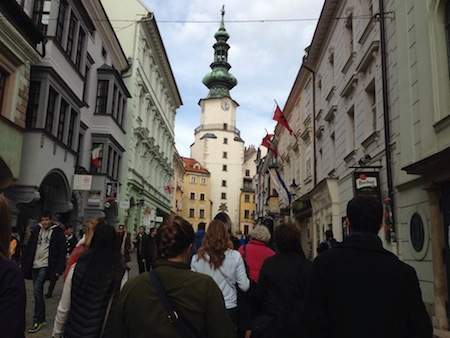 Elizabeth "Lizzie" G. Hineman '14 chose the trip for a few reasons. "I had never been to Amsterdam, Vienna or Prague, and I figured this would be my chance," she says. "I know both Tiffany and Brooke, and as an art history major, I am filled with a sense of delight when I go to a library or museum.
"Each Winter Term experience I've had has challenged me to quickly adapt to new situations, new people, new cultures – teaching me to be a better individual and encouraging me to engage with different peoples and landscapes.
Hineman says that in two weeks she became more familiar with historical art periods, new artists and great cuisine. "My favorite experiences included the Kunsthistorisches Museum in Vienna, Van Gogh Museum in Amsterdam and wandering the streets of Prague," she says.
"I was excited to learn that the other DePauw students admitted they had found a new love of art museums and historical libraries. Some new friends to share my passions with," Hineman says.
Mac Mackenzie, associate professor of art and art history and chair of the department, led a group of students to India. The course, India: Past, Present and Future, was co-created by Cheira Belguellaoui, associate professor of modern languages (French).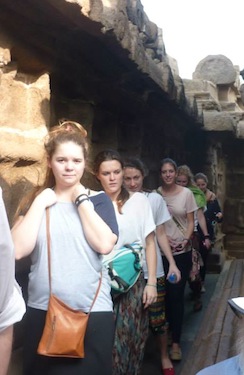 Mackenzie had been to northern India and teaches a course on the art of India. However, during this Winter Term, he took students to southern India to explore art, architecture and French colonial history.
The group explored the heartland of the ancient Hindu temple culture by visiting vast temple complexes, including Thanjavur and Mahabalipuram. A UNESCO world heritage site, Mahabalipuram, has monuments dating back to the 7th and 9th centuries. The structures are intricate and richly decorated, and are also sites of an active religious life.
"The Hindu temples cover acres of ground and attract tens of thousands of visitors a day," Mackenzie explains. "We entered into that flow of humanity. Some temples are living religious sites, and others are archaeological sites – temples that were built 1,000 years ago by great empires."
Mackenzie explains that southern India is generally not people's first visit to India. The north is easier to get to, and the sites are more familiar – like the Taj Mahal, for example.
"I've been to the Taj Mahal," Mackenzie says." It's very photogenic and designed to be seen from a single point, and that point is clearly marked by a gateway. You see it in the distance, and it presents itself very well.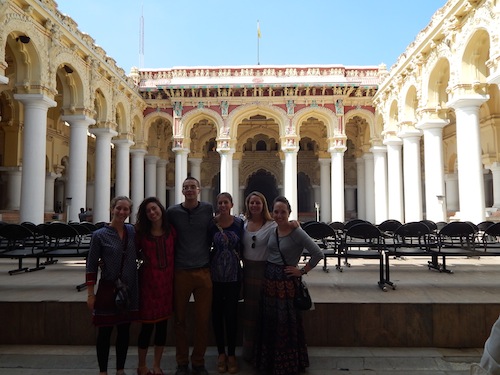 "The Hindu temple complex of the size we saw in Madurai is meant to be experienced from the inside. Although the gateway at the end of a narrow road is quite an image, once you pass through it, you're in a complex that you're supposed to move through. It's much more experiential. It's not to be viewed from a distance. You should be within it, and surrounded by it.
"We achieved that experience to a certain extent, but it doesn't photograph well, and it doesn't present itself well as a still image," Mackenzie says. That's why he was so grateful to go. "I teach about these places, and I could not get a sense of them from looking at diagrams and photographs.
"The videos that I took will be much more useful than a photograph," he says. "We experienced the sounds, smells and crush of humanity as the god was brought out of his temple and carried by his devotees though the temple complex to another shrine to visit his wife before he goes to bed at night. There was music, crowds of people and police directing traffic. It happens every night, and it's a totally exciting experience – one that I can now share with my students that I couldn't before."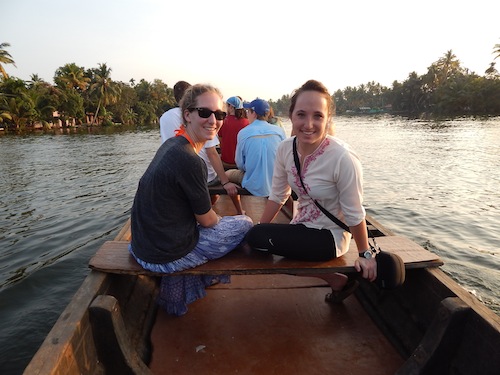 This year was junior Kacy R. Rauschenberger's third Winter Term trip abroad, but her first to India. "It's cultural exposure in a setting that I would never have had access to otherwise without DePauw and Winter Term. The trip to India was awesome," she says. (at left with Grace Goodbarn '16)
"As a French and political science double major, I was able to explore Hindu art in a way that I never had before. We were looking at the spirituality and sociological side of things. It was a really cool liberal arts way of exploring something new."
Rauschenberger says she has always had an international interest, but as a double major she doesn't have time to study abroad. Winter Term gives her an opportunity to go abroad at different points during her college career.
"I never could have imagined my experience in the first active temple we went to – the hustle and bustle, beautifully carved high ceilings, candles burning, statues, all the colors and smells. The spirituality was humming through the building. It's an experience I won't forget," Rauschenberger says.
For a complete list of projects, visit the Winter Term 2014 Off-Campus Study Projects Web page.
Back