Kurt Faires '81, Former Winter Term Intern of Howard Baker, Remembers the US Senator
June 30, 2014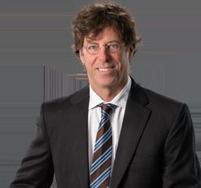 Kurt Faires, an attorney with Chambliss, Bahner & Stophel, P.C. and 1981 graduate of DePauw University, recalls his family's long friendship with former U.S. Senator Howard Baker (R - Tennessee) in an opinion column published in the Chattanoogan. Baker died last week at age 88.
"Skip ahead to January, 1978 where I'm interning in Senator Baker's Minority Leader's office in the U.S. Capitol during my DePauw University freshman Winter Term," Faires writes. "The Senator has just returned from a fact-finding trip to Panama on a Saturday. (You may recall that some say his vote supporting Carter's desire to turn over the Canal doomed Baker's future presidential ambitions -- the Great Conciliator.) Baker's secretary calls the rooming house where I am staying and says the Senator would like to see me in the Capitol on Sunday morning at 9 a.m. I figure he's just being nice and wants to say hello. Keep in mind I'm a whopping 19 years old. And so the chuckle begins. Some of my DPU friends and I enjoy the night in Georgetown and I crash at their place."
That particular Sunday morning, dignitaries were gathered at the Capitol, where the body of former Vice President Hubert Humphrey (a 1967 visitor to DePauw) was lying in state. They included Presidents Carter, Ford and Nixon and former Secretary of State Henry Kissinger. "It was somewhat of a blur after that and I'm sure at 19 I didn't understand much of it," Faires recalls. "As the reception wound down, President Ford was still there and the Senator called me over for introductions. He said, 'Kurt, I'd like to introduce
you to someone. This is President Ford.' I remember responding, 'Yes, Sir. I recognize you.' The picture with the two men and my rack hair is a real winner.
"When the reception ended, I headed for the nearest WATTS line. Remember those? 'Free' long distance. I called my parents back in Huntsville and said, 'You'll never believe where I've just been and who I've seen.' "
An economics major at DePauw, Faires earned an M.B.A. from Vanderbilt University and J.D. from Washington University in St. Louis. Of Baker, he states, "The Senator was an incredible man. I froze campaigning for him in New Hampshire in 1980. If Panama didn't do it, being 5'7" on a good day probably did ... It's too bad that the civility for which Senator Baker was known in Congress 30 years ago is now ancient history."
Read the complete column at the newspaper's website.
Back