DePauw Women Fall to #9 Chicago
January 28, 2012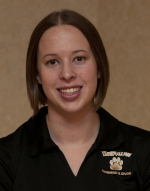 Chicago, Ill. - DePauw dropped to 2-3 on the season following a 200-96 loss at ninth-ranked University of Chicago. The Maroons finished the dual meet portion of their schedule at 5-1.
Catie Baker (pictured) won three events for the Tigers as the senior took first in the 100-yard breaststroke (1:07.06), 200 breast (2:24.65) and the 200 individual medley (2:12.95).
Mary Reilly picked up DePauw's other win in the 100 freestyle in 56.53 seconds.
The Tigers' 200 medley relay of Emma Haynes, Baker, Marjorie Daily and Courtney Lehmann was second in 1:53.23. Lehmann was second in the 50 free (25.79) as was Chelsea Courtney in one-meter diving (207.65) and on the three-meter board (183.90).
DePauw wraps up the dual meet portion of its schedule on Friday, February 3, when it hosts Rose-Hulman at 6 p.m.
Event 1  Women 200 Yard Medley Relay
===============================================================================
    Pool Rec: P 1:46.54   2/13/2009 Emory University                           
                         T Pasternak, J Aronoff, A Ciardelli, M Klinzing   
    School                                         Seed     Finals       Points 
===============================================================================
  1 University of Chicago  'A'                  1:50.59    1:50.69         11  
     1) Levens, Tara SR                 2) r:+0.0 Hill, Jenny FR          
     3) r:+0.0 McPike, Andrea JR        4) r:0.12 Millen, Bizzy FR        
     r:+0.68  28.06    30.85    27.19    24.59                                    
  2 DePauw University  'A'                           NT    1:53.23          4  
     1) Haynes, Emma FR                 2) r:-0.18 Baker, Catie SR        
     3) r:0.22 Daily, Marjorie FR       4) r:0.17 Lehmann, Courtney JR    
     r:+0.64  30.23    30.38    27.45    25.17                                    
  3 University of Chicago  'B'                       NT    1:55.13          2  
     1) Yuen, Vivian SO                 2) r:+0.0 Chen, Karen SO          
     3) r:+0.0 Ho, Tiffany FR           4) r:+0.0 Du, Joyce JR            
     r:+0.56  29.68    31.69    27.76    26.00                                    
  4 University of Chicago  'C'                       NT   x1:56.55        
     1) Kim, Amanda SR                  2) r:0.28 Chen, Cathy SO          
     3) r:0.34 Schleusener, Anna SR     4) r:0.24 Kubelick, Kelsey SR     
     r:+0.68  28.86    32.24    29.26    26.19                                    
  5 DePauw University  'B'                           NT    1:58.53        
     1) Quisenberry, Kendall JR         2) r:+0.0 Kirby, Allison SO       
     3) r:0.15 Buth, Mallory SR         4) r:-0.01 Reilly, Mary FR        
     r:+0.60  30.38    32.91    29.71    25.53                                    
  6 DePauw University  'C'                           NT   x2:02.36        
     1) Wilkinson, Alexandria SO        2) r:0.22 Bemendefer, Joan SR     
     3) r:0.52 Hochwalt, Maddie FR      4) r:0.10 Devillebichot, Katherine
     r:+0.72  31.97    33.06    31.08    26.25                                    
  7 DePauw University  'D'                           NT   x2:09.77        
     1) Harms, Kelly JR                 2) r:+0.0 Fleschler, Margaux FR   
     3) r:+0.0 Montgomery, Jennifer FR  4) r:+0.0 Komornik, Erin SO       
     r:+0.61  32.08    36.38    32.34    28.97                                    
 

Event 3  Women 1000 Yard Freestyle
===============================================================================
    Pool Rec: P 10:14.43   1/23/2009 Danielle Wenger, UWM                      
    Name              Year School                  Seed     Finals       Points 
===============================================================================
  1 Taylor, Kate        JR Chicago             10:42.49   10:40.10          9  
              28.84   31.09   31.75   31.87   32.07   32.09   32.36   32.25
      32.36   32.28   32.38   32.38   32.26   32.46   32.32   32.46
      32.36   32.39   32.54   31.59                                
  2 Crain, Katherine    JR Chicago             10:57.59   10:54.68          4  
              29.32   31.78   32.61   32.47   32.67   32.92   32.81   32.81
      32.98   32.96   33.09   32.74   33.32   33.19   33.40   33.20
      33.07   33.32   33.33   32.69                                
  3 Runyan, Kelly       JR Chicago             11:03.13   10:59.74          3  
              29.48   32.53   33.06   33.19   33.17   33.16   33.16   33.42
      33.48   33.51   33.68   33.40   33.23   33.12   33.35   32.88
      33.05   33.23   33.04   32.60                                
  4 Weber, Emily        FR DPU                 10:56.84   11:02.11          2  
              29.89   32.54   33.09   33.18   33.12   33.44   33.01   33.32
      33.25   33.32   32.93   33.21   33.34   33.26   33.57   33.59
      33.81   33.77   33.72   32.75                                
  5 Mercer, Rachael     JR DPU                 10:56.50   11:24.37          1  
              30.49   33.33   33.85   34.11   34.15   34.34   34.19   34.81
      34.77   34.56   34.87   34.73   34.62   34.21   34.83   34.99
      34.26   34.99   34.28   33.99                                
  6 Bauman, Lindsey     SR DPU                 10:56.95   11:36.61        
              30.78   34.04   34.61   34.82   34.72   35.22   35.28   35.11
      35.46   34.94   35.48   35.42   35.47   35.64   34.78   35.69
      35.39   35.50   34.61   33.65                                
 

Event 5  Women 200 Yard Freestyle
===============================================================================
    Pool Rec: P 1:51.68   2/13/2009 Ruth Westby, EMORY                         
    Name              Year School                  Seed     Finals       Points 
===============================================================================
  1 Millen, Bizzy       FR Chicago              1:57.07    1:56.61          9  
     r:+0.79  27.43   30.02   30.09   29.07                                
  2 Biery, Laura        SR Chicago              2:04.08    2:01.09          4  
              28.84   31.54   30.90   29.81                                
  3 Morrison, Katie     SR DPU                  1:57.45    2:02.63          3  
              28.17   30.88   31.77   31.81                                
  4 Trudeau, Jacquelin  SR Chicago              2:00.71    2:03.01          2  
              28.84   31.44   31.93   30.80                                
  5 Wheaton, Rachel     SR DPU                  1:56.74    2:05.30          1  
     r:+0.88  28.85   31.88   32.58   31.99                                
  6 Montgomery, Jennif  FR DPU                  2:08.23    2:10.19        
     r:+0.81  29.60   32.89   33.99   33.71                                
 

Event 7  Women 100 Yard Backstroke
===============================================================================
    Pool Rec: P 57.10  11/19/2010 Molly Evans/Tara Levens, CM/UC               
    Name              Year School                  Seed     Finals       Points 
===============================================================================
  1 Levens, Tara        SR Chicago                57.58      58.74          9  
     r:+0.67  28.53   30.21                                                
  2 Yuen, Vivian        SO Chicago              1:00.70    1:00.17          4  
     r:+0.53  29.16   31.01                                                
  3 Kim, Amanda         SR Chicago              1:03.11    1:02.43          3  
     r:+0.69  30.11   32.32                                                
  4 Quisenberry, Kenda  JR DPU                  1:00.93    1:03.35          2  
     r:+0.62  30.80   32.55                                                
  5 Haynes, Emma        FR DPU                  1:01.66    1:03.72          1  
     r:+0.66  30.83   32.89                                                
  6 Wilkinson, Alexand  SO DPU                  1:03.77    1:10.78        
     r:+0.68  34.02   36.76                                                
 
Event 9  Women 100 Yard Breaststroke
===============================================================================
    Pool Rec: P 1:04.87   1/21/2012 Emily McClellan, UWM                       
    Name              Year School                  Seed     Finals       Points 
===============================================================================
  1 Baker, Catie        SR DPU                  1:03.92    1:07.06          9  
     r:+0.85  31.45   35.61                                                
  2 Hill, Jenny         FR Chicago              1:07.95    1:08.03          4  
     r:+0.85  31.74   36.29                                                
  3 Chen, Karen         SO Chicago              1:09.77    1:09.11          3  
              32.76   36.35                                                
  4 Chen, Cathy         SO Chicago              1:10.10    1:09.93          2  
     r:+0.80  33.36   36.57                                                
  5 Kirby, Allison      SO DPU                  1:07.25    1:12.16          1  
              34.05   38.11                                                
  6 Kubelick, Kelsey    SR Chicago              1:13.65   x1:13.28        
              33.90   39.38                                                
  7 Bemendefer, Joan    SR DPU                  1:10.70    1:13.33        
              34.49   38.84                                                
  8 Loek, Hannah        JR Chicago              1:12.16   x1:13.99        
     r:+0.82  34.76   39.23                                                
  9 Komornik, Erin      SO DPU                  1:11.45   x1:15.52        
              35.58   39.94                                                
 10 Fleschler, Margaux  FR DPU                       NT   x1:18.19        
              36.55   41.64                                                
 -- Zerbini, Gina       SR DPU                  1:08.35        SCR        
 
Event 11  Women 200 Yard Butterfly
===============================================================================
    Pool Rec: P 2:06.07   2/26/2011 Maggie Dillione, CASE                      
    Name              Year School                  Seed     Finals       Points 
===============================================================================
  1 Ho, Tiffany         FR Chicago              2:12.72    2:14.03          9  
     r:+0.65  30.57   34.03   34.81   34.62                                
  2 Pendleton, Julie    JR Chicago              2:17.41    2:17.18          4  
     r:+0.92  30.95   34.55   35.81   35.87                                
  3 Bauman, Lindsey     SR DPU                  2:13.33    2:17.81          3  
              32.48   35.61   35.38   34.34                                
  4 Daily, Marjorie     FR DPU                  2:19.72    2:20.48          2  
     r:+0.58  30.51   35.48   37.19   37.30                                
  5 Schleusener, Anna   SR Chicago              2:23.06    2:20.54          1  
              32.06   35.72   36.93   35.83                                
  6 Logan, Emily        SO Chicago              2:18.61   x2:22.07        
     r:+0.85  31.42   35.34   37.58   37.73                                
  7 Buth, Mallory       SR DPU                  2:18.02    2:24.18        
              32.20   35.90   37.42   38.66                                
  8 Harms, Kelly        JR DPU                  2:21.16   x2:32.53        
              32.73   38.22   40.29   41.29                                
  9 Hochwalt, Maddie    FR DPU                  2:31.72   x2:43.80        
     r:+0.86  33.84   40.47   44.01   45.48                                
 
Event 13  Women 50 Yard Freestyle
===============================================================================
    Pool Rec: P 23.38   2/12/2009 Karina Stridh, WUSTL                         
    Name              Year School                  Seed     Finals       Points 
===============================================================================
  1 McPike, Andrea      JR Chicago                24.76      25.39          9  
          r:+0.55                                                          
  2 Lehmann, Courtney   JR DPU                    24.90      25.79          4  
          r:+0.86                                                          
  3 Reilly, Mary        FR DPU                    25.73      26.16          3  
  4 Wheaton, Rachel     SR DPU                    24.84      26.32          2  
          r:+0.82                                                          
  5 Du, Joyce           JR Chicago                25.62      26.41          1  
          r:+0.84                                                          
  6 Wilkinson, Alexand  SO DPU                    25.90     x26.84        
          r:+0.67                                                          
  7 Trudeau, Jacquelin  SR Chicago                26.51      26.87        
  8 Devillebichot, Kat  JR DPU                    25.29     x26.93        
 
Event 15  Women 1 mtr Diving
===============================================================================
    Pool Rec: P 266.60   1/22/2011 Kelsey George, UWM                          
    Name              Year School                  Seed     Finals       Points 
===============================================================================
  1 Schmidt, Becky      JR Chicago               263.10     274.45P         9  
  2 Courtney, Chelsea   JR DPU                   223.20     207.65          4  
  3 Crandall, Sarah     FR DPU                   163.45     174.90          3  
  4 Gross, Sophia       FR Chicago               182.18     173.80          2  
 
Event 17  Women 100 Yard Freestyle
===============================================================================
    Pool Rec: P 50.94   2/14/2009 Karina Stridh, WUSTL                         
    Name              Year School                  Seed     Finals       Points 
===============================================================================
  1 Reilly, Mary        FR DPU                    55.85      56.53          9  
              27.61   28.92                                                
  2 McPike, Andrea      JR Chicago                54.23      57.08          4  
              27.27   29.81                                                
  3 Wheaton, Rachel     SR DPU                    52.96      57.12          3  
     r:+0.88  27.46   29.66                                                
  4 Du, Joyce           JR Chicago                56.76      57.47          2  
              27.65   29.82                                                
  5 Weber, Emily        FR DPU                    57.56      57.61          1  
              27.77   29.84                                                
  6 Lehmann, Courtney   JR DPU                    54.84     x57.92        
              27.69   30.23                                                
  7 Pendleton, Julie    JR Chicago                   NT    1:00.57        
              28.83   31.74                                                
  8 Komornik, Erin      SO DPU                       NT   x1:02.73        
              29.95   32.78                                                
  9 Fleschler, Margaux  FR DPU                       NT   x1:03.44        
              30.06   33.38                                                
 -- Devillebichot, Kat  JR DPU                    55.98        SCR        
 

Event 19  Women 200 Yard Backstroke
===============================================================================
    Pool Rec: P 2:03.86   2/14/2009 Patricia Beck, NYU                         
    Name              Year School                  Seed     Finals       Points 
===============================================================================
  1 Levens, Tara        SR Chicago              2:11.43    2:10.28          9  
     r:+0.71  30.42   32.68   33.63   33.55                                
  2 Taylor, Kate        JR Chicago              2:19.44    2:15.88          4  
     r:+0.69  33.02   34.67   34.77   33.42                                
  3 Haynes, Emma        FR DPU                  2:11.80    2:16.10          3  
     r:+0.64  32.18   34.76   35.04   34.12                                
  4 Kim, Amanda         SR Chicago              2:18.00    2:16.20          2  
     r:+0.70  32.01   34.81   35.36   34.02                                
  5 Quisenberry, Kenda  JR DPU                  2:12.21    2:19.50          1  
     r:+0.62  32.90   35.24   35.67   35.69                                
  6 Buth, Mallory       SR DPU                  2:16.83    2:23.39        
     r:+0.73  34.06   36.38   36.94   36.01                                
  7 Harms, Kelly        JR DPU                  2:16.85   x2:26.87        
     r:+0.65  34.04   36.53   37.87   38.43                                
  8 Runyan, Kelly       JR Chicago                   NT   x2:27.19        
     r:+0.72  35.13   36.96   38.09   37.01                                
 
Event 21  Women 200 Yard Breaststroke
===============================================================================
    Pool Rec: P 2:19.78   1/21/2012 Emily McClellan, UWM                       
    Name              Year School                  Seed     Finals       Points 
===============================================================================
  1 Baker, Catie        SR DPU                  2:18.99    2:24.65          9  
     r:+0.85  32.10   36.16   37.49   38.90                                
  2 Hill, Jenny         FR Chicago              2:26.55    2:26.49          4  
     r:+0.85  32.93   36.98   38.21   38.37                                
  3 Chen, Karen         SO Chicago              2:31.41    2:31.99          3  
              35.38   38.55   38.78   39.28                                
  4 Biery, Laura        SR Chicago              2:26.71    2:32.42          2  
     r:+0.83  35.13   38.88   39.18   39.23                                
  5 Chen, Cathy         SO Chicago              2:32.34   x2:33.55        
     r:+0.85  35.77   38.60   39.56   39.62                                
  6 Bemendefer, Joan    SR DPU                  2:35.22    2:39.35          1  
              35.44   40.44   41.66   41.81                                
  7 Kubelick, Kelsey    SR Chicago              2:32.90   x2:39.81        
              35.60   40.16   41.59   42.46                                
  8 Devillebichot, Kat  JR DPU                       NT    2:40.70        
              36.19   40.59   41.94   41.98                                
 -- Zerbini, Gina       SR DPU                  2:28.73        SCR        
 -- Kirby, Allison      SO DPU                  2:25.74        SCR        
 -- Komornik, Erin      SO DPU                  2:35.67        SCR        
 
Event 23  Women 500 Yard Freestyle
===============================================================================
    Pool Rec: P 4:58.54   2/12/2009 Liz Horvat, EMORY                          
    Name              Year School                  Seed     Finals       Points 
===============================================================================
  1 Millen, Bizzy       FR Chicago              5:09.09    5:08.71          9  
     r:+0.78  28.33   30.52   31.10   31.11   31.14   31.24   31.54   31.49
      31.56   30.68                                                
  2 Crain, Katherine    JR Chicago              5:11.98    5:19.38          4  
              29.01   31.39   31.81   32.46   32.50   32.41   32.62   32.65
      32.66   31.87                                                
  3 Weber, Emily        FR DPU                  5:12.65    5:20.84          3  
              29.34   31.71   32.00   32.46   32.57   32.76   32.75   32.71
      32.57   31.97                                                
  4 Loek, Hannah        JR Chicago              5:22.76    5:23.55          2  
     r:+0.82  29.79   32.88   32.75   32.45   32.62   32.62   32.83   32.76
      32.61   32.24                                                
  5 Trudeau, Jacquelin  SR Chicago              5:16.09   x5:24.86        
              29.44   31.66   32.10   32.46   32.90   33.09   33.51   33.50
      33.33   32.87                                                
  6 Morrison, Katie     SR DPU                  5:15.63    5:31.45          1  
              30.13   33.05   33.58   33.84   33.95   34.11   33.85   33.81
      33.37   31.76                                                
  7 Logan, Emily        SO Chicago              5:32.89   x5:31.77        
              30.26   32.45   33.38   33.62   34.30   34.16   33.62   33.42
      33.48   33.08                                                
  8 Bauman, Lindsey     SR DPU                  5:16.26    5:35.07        
              31.34   33.95   34.02   34.37   33.73   34.38   33.66   34.11
      33.33   32.18                                                
  9 Montgomery, Jennif  FR DPU                  5:42.49   x5:44.09        
     r:+0.80  30.50   33.34   34.30   34.40   35.57   34.44   35.11   35.86
      36.04   34.53                                                
 -- Mercer, Rachael     JR DPU                  5:13.60        SCR        
 
Event 25  Women 100 Yard Butterfly
===============================================================================
    Pool Rec: P 56.46   2/13/2009 Chelsea Pfohl, NYU                           
    Name              Year School                  Seed     Finals       Points 
===============================================================================
  1 Yuen, Vivian        SO Chicago              1:01.56      59.47          9  
     r:+0.67  28.05   31.42                                                
  2 Ho, Tiffany         FR Chicago              1:00.21    1:00.61          4  
     r:+0.64  29.45   31.16                                                
  3 Daily, Marjorie     FR DPU                  1:01.72    1:01.62          3  
     r:+0.60  30.09   31.53                                                
  4 Schleusener, Anna   SR Chicago              1:05.87    1:05.43          2  
              30.07   35.36                                                
  5 Buth, Mallory       SR DPU                  1:01.99    1:07.18          1  
              31.40   35.78                                                
  6 Hochwalt, Maddie    FR DPU                  1:07.52    1:10.07        
     r:+0.81  32.23   37.84                                                
 
Event 27  Women 3 mtr Diving
===============================================================================
    Pool Rec: P 269.63   1/23/2009 Ashley Hall, UWM                            
    Name              Year School                  Seed     Finals       Points 
===============================================================================
  1 Schmidt, Becky      JR Chicago               268.50     285.85P         9  
  2 Courtney, Chelsea   JR DPU                   171.40     183.90          4  
  3 Gross, Sophia       FR Chicago               200.10     174.95          3  
 
Event 29  Women 200 Yard IM
===============================================================================
    Pool Rec: P 2:07.63   2/12/2009 Patricia Beck, NYU                         
    Name              Year School                  Seed     Finals       Points 
===============================================================================
  1 Baker, Catie        SR DPU                  2:06.56    2:12.95          9  
     r:+0.85  28.83   34.33   37.67   32.12                                
  2 Ho, Tiffany         FR Chicago              2:14.33    2:15.17          4  
     r:+0.67  29.10   35.56   40.13   30.38                                
  3 Biery, Laura        SR Chicago              2:18.70    2:18.36          3  
              30.63   38.01   38.85   30.87                                
  4 Crain, Katherine    JR Chicago              2:18.49    2:18.86          2  
              29.83   36.09   41.29   31.65                                
  5 Schleusener, Anna   SR Chicago              2:25.84   x2:25.90        
              31.26   38.82   43.87   31.95                                
  6 Haynes, Emma        FR DPU                       NT    2:26.96          1  
              31.48   36.15   46.55   32.78                                
  7 Pendleton, Julie    JR Chicago              2:20.35   x2:27.32        
     r:+0.90  32.09   40.19   42.97   32.07                                
  8 Harms, Kelly        JR DPU                  2:21.22    2:27.45        
     r:+0.71  31.64   37.81   44.25   33.75                                
  9 Bemendefer, Joan    SR DPU                       NT   x2:28.61        
              32.00   40.56   41.24   34.81                                
 10 Komornik, Erin      SO DPU                  2:23.10   x2:30.12        
              33.26   40.84   41.14   34.88                                
 -- Kirby, Allison      SO DPU                  2:12.51        SCR        
 -- Zerbini, Gina       SR DPU                  2:16.28        SCR        
 
Event 31  Women 400 Yard Freestyle Relay
===============================================================================
    Pool Rec: P 3:28.39   2/14/2009 Emory University                           
                         A Ciardelli, E Shi, W Taylor, R Westby            
    School                                         Seed     Finals       Points 
===============================================================================
  1 University of Chicago  'A'                  3:35.35    3:39.99         11  
     1) Millen, Bizzy FR                2) r:0.34 Hill, Jenny FR          
     3) r:0.31 McPike, Andrea JR        4) r:0.29 Levens, Tara SR         
     r:+0.77  26.16    54.42    26.50    55.59    25.95    56.27    25.39    53.71
  2 University of Chicago  'B'                       NT    3:45.94          4  
     1) Taylor, Kate JR                 2) r:0.46 Trudeau, Jacqueline SR  
     3) r:0.31 Du, Joyce JR             4) r:0.29 Yuen, Vivian SO         
     r:+0.85  27.06    55.77    28.02    57.27    27.20    57.27    26.44    55.63
  3 DePauw University  'A'                           NT    3:46.95          2  
     1) Wheaton, Rachel SR              2) r:0.28 Reilly, Mary FR         
     3) r:0.30 Lehmann, Courtney JR     4) r:0.14 Weber, Emily FR         
     r:+0.89  27.49    57.03    26.89    56.30    26.85    57.45    26.70    56.17
  4 DePauw University  'B'                           NT    3:55.19        
     1) Morrison, Katie SR              2) r:0.38 Devillebichot, Katherine
     3) r:0.26 Mercer, Rachael JR       4) r:0.37 Daily, Marjorie FR      
              28.51    58.93    28.20    59.81    27.88    58.68    27.37    57.77
  5 University of Chicago  'C'                       NT   x3:56.12        
     1) Kim, Amanda SR                  2) r:+0.0 Runyan, Kelly JR        
     3) r:0.30 Kubelick, Kelsey SR      4) r:0.08 Pendleton, Julie JR     
     r:+0.87  28.34    59.14    28.37    58.61    26.99    57.39    29.05  1:00.98
  6 University of Chicago  'D'                       NT   x3:57.15        
     1) Loek, Hannah JR                 2) r:+0.0 Chen, Karen SO          
     3) r:+0.0 Chen, Cathy SO           4) r:+0.0 Logan, Emily SO         
              28.72    59.99    27.79    57.77    28.46    59.22    29.36  1:00.17
  7 DePauw University  'C'                           NT   x4:01.23        
     1) Montgomery, Jennifer FR         2) r:+0.0 Quisenberry, Kendall JR 
     3) r:0.30 Hochwalt, Maddie FR      4) r:0.34 Wilkinson, Alexandria SO
     r:+0.83  28.69  1:00.46    27.79    59.78    28.90  1:01.02    28.27    59.97
Back