Tigers Unable to Hold Second-Half Lead in NCAC Loss to Little Giants
February 1, 2012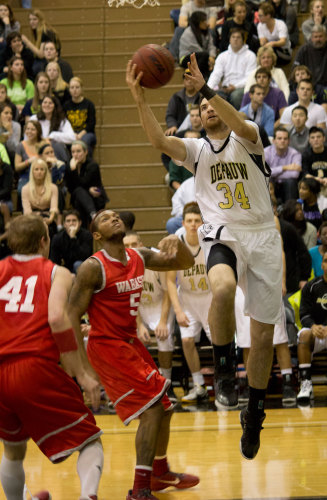 Greencastle, Ind. - DePauw's Michael Wilkison hit a three-pointer with 7.7 seconds left to bring DePauw within two points of Wabash, but his potential game-winner with three seconds left hit off the front of the rim and the Tigers dropped a 65-63 North Coast Athletic Conference decision to the Little Giants.
DePauw slipped to 12-8 overall and 6-5 in the NCAC, while Wabash improved to 15-5 overall and 7-4 in league play.
Wabash took its first lead of the second half at 60-57 on Derek Bailey's three-pointer with 3:01 remaining. The teams exchanged misses before Barry Flynn (pictured) hit the back end of a two-shot foul with 1:58 left.
Andy Walsh's jumper with 1:36 left extended Wabash's lead to 62-58 before Kevin Sullivan made the first of two free throws. Sullivan rebounded his own miss and Flynn was fouled with 1:04 remaining. He hit the first of two charity tosses and Wabash controlled the rebound.
Bailey's jumper with 42.1 seconds left gave Wabash a 64-60 lead and Wilkison's three with 31 seconds remaining was off the mark. The Tigers fouled Bailey with 15 seconds left and he hit the front end of the one-and-one to push the lead to 65-60.
Wilkison answered with a three and the Tigers called a timeout, trailing 65-63 with 7.7 seconds remaining. Wabash turned the ball over on the in-bounds and the Tigers were awarded the ball with 6.7 seconds remaining.
Following a timeout, DePauw got the ball to Wilkison and his potential game-winning effort hit the rim and neither team gained control as the horn sounded.
The lead changed hands seven times in the first half with Wabash leading early by as many as five on a couple of occasions. Later in the half, the teams were scoreless for nearly four minutes before the Tigers went on a 9-4 run to take a 23-19 advantage with 3:45 left in the half. DePauw took a 25-24 lead into the intermission.
Connor Rich hit a three before Flynn made a jumper with 10:51 remaining which gave the Tigers their biggest lead of the game at 46-37.
DePauw still led by six at 49-43 after a Camron Burns bucket. Walsh responded with a three-pointer and Nicksic's jumper following a DePauw turnover cut the Tigers' lead to 49-48 at the 7:53 mark.
Sean Haseley pushed the margin back to four with a three-pointer before Walsh hit a bucket to make it 52-50. DePauw was whistled for a foul after the basket and Aaron Zinnerman's layup tied the game at 52-52 with just under seven minutes left.
The Tigers pushed the lead back to three, but Wabash never trailed after Bailey's bucket broke the 57-57 deadlock.
All five DePauw starters finished in double figures led by Flynn's 14. Wilkison added 12 with Rich totaling 11 in his first collegiate start. Haseley and Burns each chipped in 10. Rich and Sullivan grabbed four rebounds apiece with Alex Payne and Sullivan each recording three assists.
Bailey paced Wabash with 19 points followed by Zinnerman with 14 and 11 each off the bench from Walsh and Nicksic. Nick Curosh grabbed seven rebounds and Houston Hodges dished out four assists.
DePauw shot 50 percent for the game and hit 12 of its first 16 second-half attempts before making just one of its last seven. The Little Giants shot 42.6 percent from the floor including 53.8 percent in the second half.
The big difference came on the boards where Wabash held a 34-23 advantage and grabbed 14 offensive rebounds. which led to an 11-4 margin in second-chance points.
DePauw hosts Kenyon on Saturday, February 4, at 5 p.m., while Wabash travels to Wooster on Saturday for a 2 p.m. contest.
Back