DePauw Rolls to 18th Straight Win; Tigers Clinch Opening Round Home Game in NCAC Tourney
February 3, 2012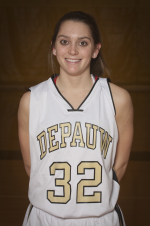 Greencastle, Ind. - DePauw's women extended their win streak to 18 and clinched an opening-round home game in the North Coast Athletic Conference with an 80-45 win over visiting Allegheny.
The Tigers, ranked fifth in the latest coaches' poll and sixth by D3hoops.com, improved to 19-1 overall and 12-0 in the NCAC, while the Gators dropped to 13-7 overall and 8-3 in conference play. The 18-game win streak is DePauw's fourth longest in program history and the win marked the Tigers' 69th consecutive home conference victory.
The game was tight early as DePauw held just a 20-16 lead with 8:43 left in the first half, but the Tigers rattled off the next eight points as Lauren Abendroth delivered a three-point play and a three-point field goal followed by Katie Aldrich's two free throws to make it 28-16. The Tigers finished the half strong as they outscored the Gators 7-2 in the final minute to take a 45-27 halftime lead.
DePauw led 54-31 four minutes into the second half before holding Allegheny scoreless over the next 10:47 while scoring 22 straight for a 74-33 lead.
In all, 15 players scored for the Tigers paced by Ali Ross' (pictured) 16. Alex Gasaway grabbed seven rebounds off the bench and Ellie Pearson matched a career high with five assists and also totaled four steals.
Erica Restich led Allegheny with 13 points with Daryl Ford adding 12 and Heidi Goeller 11. Ann Ryan, Ford and Jasmine Hoover each had four rebounds with Marina Scarantino and Goeller totaling three assists each.
The Tigers shot 47.2 percent from the field including 53.6 percent in the first half, while the Gators shot 37.7 percent after a 54.2 percent performance in the opening half. DePauw held a 37-22 rebounding advantage and committed just nine turnovers.
The Tigers host Hiram tomorrow at 3 p.m., while Allegheny travels to Wittenberg.
Back