#4 DePauw Women Finish NCAC Regular Season at 16-0 with Win at Wooster
February 18, 2012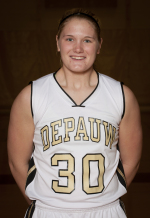 Wooster, Ohio - DePauw's fourth-ranked women extended their win streak to 22 and finished their first season of North Coast Athletic Conference basketball play at 16-0 following a 51-31 win at Wooster.
The Tigers improved to 23-1 overall as the defense held its seventh opponent below 40 points this season which extends the school record. The 31 points allowed was the best defensive performance by DePauw this year. Wooster finished its season at 3-21 overall and 2-4 in the NCAC.
DePauw takes the number one seed into next week's NCAC Tournament and the Tigers host Oberlin on Tuesday, February 21. Ticket information and game time will be posted later.
DePauw never trailed the Fighting Scots as they jumped out to an 11-2 lead in the opening six minutes of the game. That lead reached as many as 12 points, but the Tigers held just a 22-11 advantage at the intermission.
Wooster couldn't get the DePauw lead to single digits and the Tigers eventually stretched the lead throughout the second half.
Ali Ross and Alex Gasaway (pictured) each scored 12 for the Tigers, while Katie Aldrich just ,missed her second double-double of the week with nine points and a game-high 10 rebounds. Ross dished out three assists in the win.
Jessica Wingen paced Wooster with nine points and six rebounds and Suvi Puripattarapan recorded four steals.
DePauw shot a season-low 32.2 percent from the field, but held Wooster to 28.2 percent. The Tigers also held a 42-27 edge on the boards and committed just 14 turnovers to the Fighting Scots' 21 for a 17-2 edge in points off of turnovers.
With the victory, DePauw extended its conference win streak to 24 straight and posted its fifth undefeated conference season in the last 15 seasons.
Back