DePauw Finishes Fourth at NCAC Women's Swimming and Diving Championships
February 18, 2012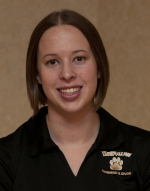 Canton, Ohio - DePauw totaled 877 points and finished fourth at the 2012 North Coast Athletic Conference Women's Swimming and Diving Championships. Denison won with 1,611 points followed by Kenyon with 1,581 and Wooster with 947.
In Saturday's competition, Chelsea Courtney earned all-NCAC honors with a second-place finish in one-meter diving with 369.75 points. Morgan Crandall finished fifth with 326.70 points and Sarah Crandall was seventh with 278.5.
Catie Baker (pictured) achieved an NCAA "B" time in the 200 breaststroke and finished second in 2:20.23 to earn all-NCAC honors. Allison Kirby finished seventh in the event in 2:26.92, while Bre Jennings was eighth in 2:27.20 and Gina Zerbini was 10th in 2:29.23.
Emily Weber was 11th in the 1,650 freestyle in 18:02.58, while Rachael Mercer placed 14th in 18:24.58. Nicole Rossillo was 14th in the 100 free in 54.08 seconds and Lindsey Bauman finished 15th in the 200 butterfly in 2:16.64.
DePauw's 400-meter free relay of Rachel Wheaton, Rossillo, Courtney Lehmann and Baker finished fourth with a time of 3:35.16.
Back