DePauw Men Make Return Trip to Wooster for NCAC Quarterfinal Hoops Game
February 21, 2012
GAME NOTES | WGRE BROADCAST | WOOSTER LIVE VIDEO | LIVE STATS | NCAC TOURNAMENT SITE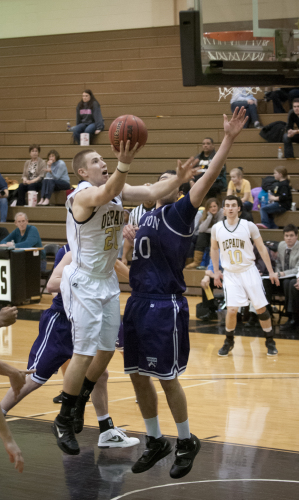 Greencastle, Ind. - DePauw opens North Coast Athletic Conference Tournament play tonight when it travels to 19th-ranked College of Wooster for a quarterfinal game. Tipoff in Timken Gymnasium is set for 7:30 p.m.
The Tigers, seeded seventh, are 13-12 overall and finished NCAC play at 7-9 after Saturday's 74-67 loss at Wooster. Barry Flynn led DePauw with 23 points and eight rebounds, Sean Haseley dished out five assists.
Flynn leads the Tigers with 13.3 points per game followed by Haseley at 12.5 and Michael Wilkison at 10.3. Flynn is the team's top rebounder with 6.9 per game and also leads with 55.8 percent field goal shooting and 0.9 blocks. Wilkison and Haseley each are dishing out 2.6 assists with Haseley hitting 48 three-pointers and Wilkison 45.
Haseley ranks seventh in school history with 172 career three-pointers made, 13th with 78.8 percent career free throw shooting and 22nd with 1,089 career points.
Wooster is 21-4 overall and finished NCAC play at 12-4 with the tournament's second seed. The Fighting Scots are coming off a 74-67 home win over DePauw on Saturday. Justin Hallowell led Wooster with 22 points and shared the team rebounding lead with Justin Warnes as each grabbed five. Matt Fegan dished out seven assists.
Xavier Brown leads the team with 13.4 points per game followed by Hallowell at 13.0 and Josh Claytor at 11.1. Hallowell leads with 6.5 rebounds per outing and has hit a team-best 58 three-pointers. Fegan leads the way with 2.6 assists.
DePauw won the first meeting by a 75-66 score on January 14 in Greencastle, Wilkison paced DePauw with 18 points, while Fernitz grabbed five rebounds. Brown led the Fighting Scots with 18 points and Hallowell grabbed seven rebounds. The Tigers shot 61.9 percent in the second half and committed just eight turnovers for the game.
Back