Tigers Split Doubleheader with Anderson
March 3, 2012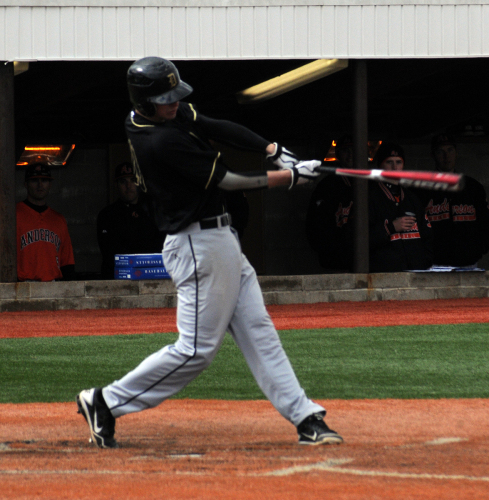 Xenia, Ohio - DePauw dropped the opening game of a doubleheader with Anderson, 7-6, after nearly erasing a five-run deficit and then came back with a 5-2 win in the second game for the split. The Tigers are 4-1 on the season, while the Ravens are 2-2.
In the opener Anderson scored four in the bottom of the first before the Tigers reached the board in the third on Alex Wright's bases loaded walk which scored Zach Galyean.
The Ravens expanded the lead to 6-1 in the fourth on Andrew Eiler's solo homer and an unearned run. Wright's solo shot in the fifth closed the gap to 6-2 but Anderson added their final tally in the sixth.
Zach Galyean, Rob McPike and Jason Cohen each singled to load the bases in the seventh. Wright followed with a two-run double and Robbie Stein added a sacrifice fly to make it 7-5. Sam Swafford was hit by a pitch with two outs before pinch-hitter Cory Meixner doubled home Wright. Swafford tried to score on the play but was thrown out at the plate for the game's final out.
DePauw totaled nine hits led by Galyean, McPike and Wright with two each. Wright drove in four of DePauw's six runs. jacob Craft and Eiler each had two of Anderson's nine hits.
Elliott Ross dropped to 0-1 with the loss, while Nolan Schaefer improved to 1-0.
Anderson again got off to a quick start in the nightcap with two runs in the first, but DePauw evened the score in the second as Cohen led off with a walk and scored on Wright's triple. Brendon Pashia lifted a sacrifice fly to right which plated Wright.
Cohen led off the fourth with a triple and scored on Wright's base hit before Pashia drove in a pair in the seventh with a double.
Wright had three of DePauw's eight hits and finished the doubleheader with 5-of-6 batting with six RBI. Pashia added a pair of hits in the win. Michael Tucker had two of the Ravens' six hits.
Andy Manson improved to 2-0, while Joe Wojda picked up his first save. Blake Hall suffered the loss.
The Tigers return to action on Sunday when they face Transylvania in a twinbill at Louisville's St. Xavier High School.
Back