#18 Tigers Sweep Denison; Extend Win Streak to 11
April 1, 2012
Granville, Ohio - DePauw completed its North Coast Athletic Conference series sweep at Denison with a pair of wins today as the Tigers took game one by an 18-5 count and won the nightcap, 6-0.

The Tigers, ranked 18th in the latest coaches' poll and 21st by D3baseball.com, improved to 23-3 overall with their 11th straight win and 15th in the last 16 games, while the Big Red dropped to 5-18 overall and 0-4 in conference play. The win streak is DePauw's longest since a 12-game string during the 1996 season.

In the first game, J.B. McCallum led off the first with a single and moved to second on Brendon Pashia's single. Rob McPike's fly out moved McCallum to third and he scored on Jason Cohen's (pictured left) sacrifice fly.

Robbie Stein led off the second with a single, moved to second on a ground out and scored on Pat Lyons' base hit.

DePauw put the game away in the third with nine runs on eight hits including six doubles. The Tigers added four more in the fourth and three in the fifth on Cory Meixner's pinch-hit three-run homer.

Denison scored four in the sixth on Kyle Clemmenson's grand slam and added an unearend run in the seventh.

DePauw totaled 19 hits led by three each from Pashia and Alex Wright and two apiece from McPike, Stein, Meixner, Alex Berlyn and Lyons. Jeremy Tirado had three of Denison's nine hits while Clemmenson and Charlie Apfelbach each had two.

Michael Chiaro improved to 3-0 after pitching five shutout innings with three strikeouts and no walks. Kevin Bratcher dropped to 0-2 with the loss.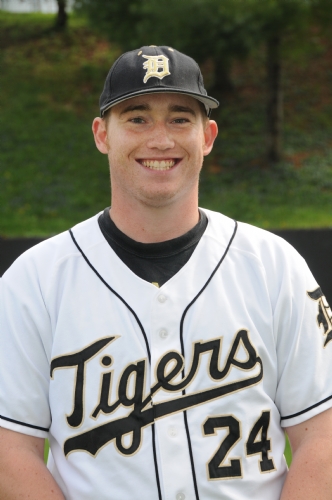 In the series finale, the teams battled through three scoreless innings before DePauw struck for three in the fourth. Zach Galyean led off with a single and moved to third on McPike's double. Cohen followed with a two-run double and then scored on Stein's base hit.

DePauw scored three unearned runs in the ninth as Cohen led off with a single and pinch-runner Collin Henry moved to second on Wright's sacrifice bunt. Pashia and Ryan Allee reached on errors which allowed Henry to score. Pashia and Allee eaxh stole a base and came home on Lyons' two-run single.

The Tigers totaled 10 hits led by Cohen's 4-for-4 performance. Galyean added two in the win. Five different Big Red players had one hit each.

Hobs Donovan (pictured right) improved to 1-0 after allowing just two hits while striking out six with no walks in seven innings. Tim Duxbury dropped to 2-3 with the loss.

DePauw travels to Ohio Wesleyan on Friday, April 6, for a doubleheader on the first of two days of a four-game NCAC series.





Back