DePauw Men in Fifth after First Day of NCAC Championships
April 21, 2012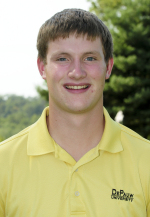 Meadville, Pa. - DePauw shot an opening-round 313 and is in sixth-place at the North Coast Athletic Conference Championship Event #1. Wittenberg leads with a 304.
Graham Singer (pictured) is tied for third with a 73, while Ty Frost is tied for seventh with a 75. Brandon Bekkering is tied for 22nd at 81 followed by Charlie Castino in a tie for 33rd with an 84 and Eric Tandy in a tie for 43rd at 92. Ohio Wesleyan's Caleb Chiero leads with a 71.
The second round wraps up on Sunday and the complete NCAC Championships will be concluded with two more rounds next weekend at Oberlin.
Back