Third-ranked Tigers Lead NCAC Championships at Midway Point; Gaughan Leads the Individual Field
April 22, 2012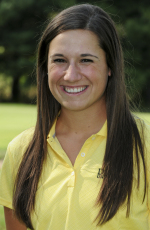 Meadville, Pa. - Third-ranked DePauw shot a second-round 318 and won the first of two North Coast Athletic Conference Championship events with a 644. Allegheny was second with a 656, while Wittenberg was third at 688.
Kelly Gaughan (left) led the field with a 157 including a tournament-low 76 today. Kelsey Smith was second with a 159 followed by Paige Gooch in seventh at 165 and Taylor Beaty in eighth with a 166. Abby Dickey shot an 80 today.
For her efforts, Gaughan was named the NCAC Golfer of the Week
The second Championship event takes place on April 28-29 in Oberlin, Ohio.
Back