DePauw Defeats Oberlin for NCAC Title
April 28, 2012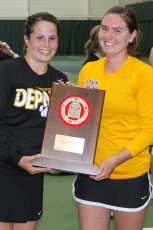 Gambier, Ohio - .The 12th-ranked Tigers captured the North Coast Athletic Conference women's tennis championship following a 5-1 win over Oberlin in the title match.
DePauw improved to 17-6 with the win, while the Yeowomen dropped to 19-6.
The Tigers swept through doubles play for a 3-0 lead before Maggie MacPhail defeated Brenna Sheldon by a 6-0, 6-3 score at second singles and Claire Marshall topped Grace Porter by a 6-0, 6-3 score.
With the win, the Tigers earned automatic qualification into the NCAA Division III Championships which start May 10 or May 11.
Oberlin College vs DePauw University
4/28/2012 at Gambier, Ohio
(Jasper Tennis Center)

#12 DePauw University 5, Oberlin College 1

Singles competition
1. Ariel Lewis (OBEW) def. Kelly Gebert (DPU) 6-1, 6-2
2. Maggie MacPhail (DPU) def. Brenna Sheldon (OBEW) 6-0, 6-3
3. Meg Crowley (DPU) vs. Finley Gates (OBEW) unfinished
4. Claire Marshall (DPU) def. Grace Porter (OBEW) 6-0, 6-3
5. Katie Regan (DPU) vs. Preeya Shah (OBEW) unfinished
6. Caroline Emhardt (DPU) vs. Carolyn Ball (OBEW) unfinished

Doubles competition
1. Kelly Gebert/Maggie MacPhail (DPU) def. Finley Gates/Grace Porter (OBEW) 8-4
2. Meg Crowley/Claire Marshall (DPU) def. Ariel Lewis/Carolyn Ball (OBEW) 8-3
3. Caroline Emhardt/Julie Wittwer (DPU) def. Preeya Shah/Brenna Sheldon (OBEW) 8-3

Match Notes:
Oberlin College 19-6
DePauw University 17-6; National ranking #12
NCAC Tournament Championship Match


Back