Kelly Gebert Bows Out in NCAA Round of 16
May 24, 2012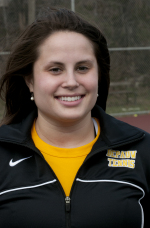 Cary, N.C. - Kelly Gebert (Wichita, Kan) advanced to the NCAA Round of 16 with an opening-round win, but dropped the second-round match and bowed out of the NCAA Division III Singles Championship.
Gebert topped UC-Santa Cruz's in the first round by a 6-3, 6-4 score before dropping the round of 16 match to Sonja Menigham of Washington and Lee by a 6-2, 6-2 score.
During her four years, Gebert posted a 73-51 singles record.
Back