Jen Kosinski Selected as NCAC Player of the Week
April 23, 2012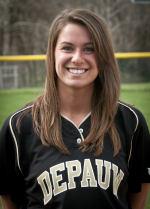 Greencastle, Ind. - DePauw senior Jen Kosinski hit safely in all six games and scored at least two runs in five and was named the North Coast Athletic Conference Softball Player of the Week.
Kosinski hit two homers in the second game with Oberlin when she became DePauw's all-time RBI leader. That total now stands at 160.
In the first game with Wittenberg, Kosinski broke the Tigers' all-time runs scored record and now has 161.
Back