Student-Athlete Profile: Elizabeth Young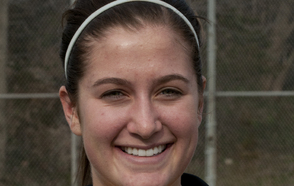 June 8, 2012
Elizabeth J. Young '13 has successfully mastered the art of time management while becoming an invaluable leader on the women's tennis team. She is a studio art and art history double major, first-year mentor and Alpha Phi sorority vice president of program development – overseeing scholarship and new member education.
Head tennis coach Scott Riggle explains that Elizabeth is eminently reliable in her role on the team. "As a team, we know that we can always count on her ­– whether that means putting forth her best effort in a match or practice, providing excellent leadership, or by contributing hard work and great ideas to any endeavor that the tennis teams undertake."
Young is on the traveling squad, although not always in the starting lineup, but that doesn't bother her. She explains that there is much more to being a member of the team than starting. "I'm always there to warm up with the team and cheer them on. I've taken on more of a leadership role this year, and I'm really excited about it.

Young organized a fundraiser for the Team Riggle Foundation this spring. Both the men's and women's team began working together last summer to plan the event. They offered lessons to members of the DePauw and surrounding communities in return for a donation to support Parkinson's disease research.
Coach Riggle founded the nonprofit organization after he was diagnosed with Parkinson's disease last year. Riggle stresses that the idea to host a fundraiser came entirely from his players.
Young says that participants were generous, and she was very pleased with the turnout. On the day of the event, donations totaled more than $3,600. Coupled with donations from alumni and parents, the foundation raised more than $6,500 – far more than the tennis players expected. "We are already thinking ahead to next year and to making the Team Riggle Foundation fundraiser an annual event," she says.
"My DePauw experience wouldn't be the same without the tennis team," Young says. "When I was looking at colleges, I definitely looked at top Division III tennis schools because playing tennis was one of my biggest priorities. Just being on a team is really beneficial for me because I like being part of a group, working together toward something. I love the smallness of DePauw and having the opportunity to get to know so many different people."
Young encourages the DePauw community to continue following the team. "We had a really strong recruiting class this year, and we're a much better team," she says. "I think we'll keep improving because the majority of our starting lineup this year are first-year students, and I'm really excited to see what they'll do over the next three years."
Back