Student-Athlete Profile: Reid Garlock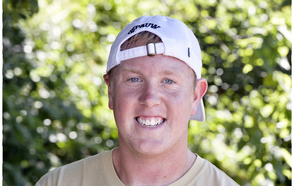 June 28, 2012
You could say that men's tennis team member Stephen "Reid" Garlock '13 spent both this summer and last fall semester working in marketing and sales. The two experiences, however, couldn't have been more different.
Garlock, an economics major, spent the fall in Miami on an internship arranged through DePauw's Management Fellows honors program. Working with Independent Purchasing Cooperative, who negotiates with suppliers for Subway, he monitored a gift card database that tracks sales across more than 36,000 Subway franchisees. On one hand, Garlock was fascinated by the behind-the-scenes look at how Subway managed its daily operations. On the other, he found out that he doesn't want to be an accountant.
"[The internship] changed my outlook on what I want to do," Garlock says. "I now know that I don't want to go into accounting, so I checked that off my list. At the very least, that's what you can always get out of an internship. But it also helped me understand how a business functions on a day-to-day basis. I created these huge spreadsheets of weekly sales for all of the Subways in North America. It was a lot of numbers and calculating. I was intrigued with how the system worked."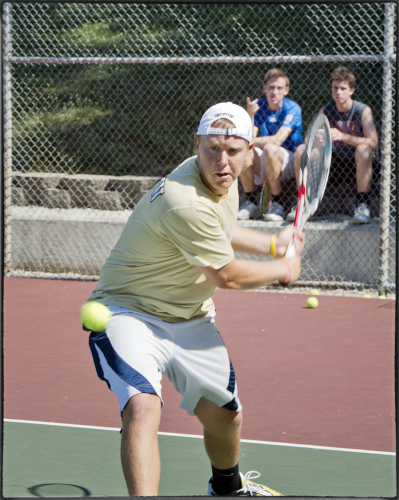 Shortly after he returned from Miami, Garlock began a Winter Term internship with his hometown Indianapolis' Super Bowl Host Committee. Instead of working with an endless stream of sales numbers, he was meeting face-to-face with restaurant and store owners, pitching initiatives to help them benefit from the inflow of visitors.
"I went to local businesses and saw how much this Super Bowl was affecting them," he says. "We'd hand out information and posters to help them promote themselves. The staff at the host committee was small, and the people there were doing a lot, so it was hectic, but fun."
A small team, hectic and fun – in other words, it was a lot like his time on the tennis court. In three years on the men's tennis team, Garlock has compiled a 25-12 career record, mostly as part of a doubles pairing. Doubles play has been a good fit for Garlock, and Garlock's buoyant personality is a good fit for DePauw's tennis program. Because intercollegiate tennis competitions begin with doubles, he and his partner have a chance to set the tone for the rest of the day's matches.
"The main thing the DePauw tennis team is known for is our doubles and our team camaraderie," Garlock says. "Tennis is such a game of momentum, and our doubles teams use our energy and enthusiasm to get the crowd going and to get each other excited on the court. It really builds momentum and makes us play better and keeps us focused. Having that psychology on your side takes a lot of pressure off of you."
This summer, Garlock brought that enthusiasm to the Tiger Tennis Camp, where he was one of three members of the men's and women's tennis teams participating in the week-long camp. Working with the campers, Garlock was part counselor, part coach and always had wonderful words about the DePauw experience.
"When you have a passion about something, you want to sell it to other people," he says. "Whether it's for Management Fellows, a tennis recruit, or a high school friend looking to come to DePauw, I want to have that chance to talk to them. I think the people you find here and the amount of fun we have while building a good, strong academic foundation sets DePauw apart. I think that's the main thing people are looking for in college."
Back