Four Tigers Earn All-Region Softball Honors
May 14, 2012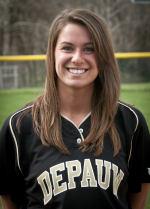 Greencastle, Ind. - Four members of DePauw's softball team have been selected to the National Fastpitch Coaches Association All-Central Region Team including three on the first team. A complete list of the all-region team is available here.
Earning first team honors were senior third baseman Holly Paris, junior catcher Amy Hallett and senior shortstop Jen Kosinski as an at-large choice, All three earlier were named to the all-North Coast Athletic Conference first team.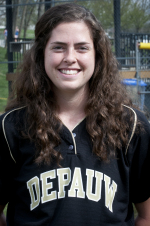 Kosinksi (left) led this year's team with a .446 batting average, 54 hits, 44 runs scored, 37 runs batted in and a .511 on-base percentage. She also was second with nine homers and shared the team lead with 11 stolen bases.
Kosinski finished her career as DePauaw's all-time leader in runs (168), hits (217) doubles (48), RBI (166) and total bases (346). She also was second with 25 career homers and third with a .406 career batting average. Kosinski was a first team all-region choice as a freshman designated player and second team at third base each of the last two years. She was a third team all-America selection in 2009 as well.
Hallett (right) hit .368 for the Tigers and led the squad with 11 homers and 13 doubles for a team-high and school-record .778 slugging percentage. She also was second with 37 runs and 33 RBI. Hallett threw out four runners attempting to steal this year. Her 30 career homers are a school record as is her .688 career slugging percentage. She was a second team all-region choice in 2010 and third team last year.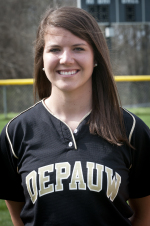 Paris (left) batted .352 this season, was second on the team with 44 base hits and third with 28 RBI. She finished her career with a .322 batting average.
Senior catcher/designated player Haley Buchanan was a third team at-large choice. Buchanan hit .356 on the season with a team-high 21 walks. She finished her career with 21 career homers which ranks third in DePauw history. Buchanan earned all-NCAC second team honors this year.
The Tigers finished the season with a 29-12 record and as runners-up at the NCAC Tournament.
Back