Gooch and Smith Lead Division III Golfers at Pure Silk Team Championship
July 31, 2012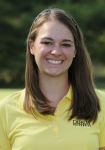 Powell, Ohio - DePauw juniors Paige Gooch (Fort Mitchell, Ky./Beechwood) and Kelsey Smith (Indianapolis/Hamilton Southeastern) shot an opening round 81 and are tied for 28th overall and lead the Division III field at the Pure Silk Team Championship at the Wedgewood Golf & Country Club.
The opening round format was alternating shot with Ashley Armstrong and Kristina Khim of Notre Dame leading the way with a 69. Gooch (far left) and Smith (near left) shot the second best non Division I score for the round and hold a one stroke advantage over the nearest Division III tandem of Kelsey Baker and Sharon Li of Ithaca College.
Fifty-four teams return to the course on Wednesday morning and will play a best ball format.
Back