Gooch and Smith Second Among Division III Teams at Pure Silk Championships with One Round Remaining
August 1, 2012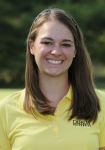 Powell, Ohio - DePauw juniors Paige Gooch (Fort Mitchell, Ky./Beechwood) and Kelsey Smith (Indianapolis/Hamilton Southeastern) combined to shoot a second-round 73 and are tied for 28th overall and second among the Division III golfers at the Pure Silk Team Championship at the Wedgewood Golf & Country Club.
The second round included a best ball format with a three-way tie at the top of the overall leaderboard with teams from South Carolina, Vanderbilt and Notre Dame. Kelsey Baker and Sharon Li of Ithaca College shot a 69 on Wednesday and lead Gooch and Smith by three strokes in the Division III competition.
Fifty-four teams return to the course on Thursday morning for the final round which will be an aggregate score format.
Back