Erica Hanrahan Named Head Softball Coach
August 8, 2012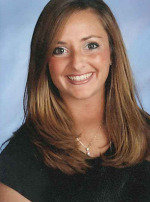 Greencastle, Ind. - Erica Hanrahan, an assistant softball coach at Boston College, has recently been named just the third head coach in the softball program's history since its return to varsity status in 1996.
"We're thrilled to have Erica join the DePauw athletics team," DePauw's Theodore Katula Director of Athletics and Recreational Sports Stevie Baker-Watson said.
"She brings a wealth of head coaching experience and understands the importance of providing our student-athletes with a great experience."
Hanrahan takes over for Bonnie Skrenta who resigned in June to become the head coach at Division I Bucknell. The Tigers have posted a 241-61-1 record over the last seven years including five appearances in the Division III NCAA postseason in the last six seasons. Since 2007, DePauw has finished tied for fifth in the nation at the Division III finals.
While at Boston College, Hanrahan assumed the position as first assistant within the program and was responsible for the development of the entire pitching staff, the outfielders and game-by-game scouting reports. Additionally, she spearheaded the recruitment of the pitchers and assisted with the planning and implementation of practice, the organization and communication of recruiting and the fundraising efforts of the squad.
In her lone season at Boston College, Hanrahan helped the Eagles get off to their best start in 11 years (16-6), defeating conference foe Virginia Tech for the first time at home in eight seasons along the way en route to totaling 50 percent more wins than the previous season.
Prior to arriving in Chestnut Hill, Hanrahan served as head varsity softball coach at Elmwood Park High School in Elmwood Park, Ill., where she directed her team to six regional championships, two sectional titles and two quarterfinal berths in the state tournament.
While at Elmwood Park, she founded the Lady Tigers travel softball organization where her responsibilities as the president and coach of the association's U18 squad included developing a board of trustees, recruiting, fundraising, scheduling games and practices and developing rapport with collegiate coaches to help showcase talent on the Lady Tigers teams.
A 2000 graduate of St. Peter's College in Jersey City, N.J., Hanrahan went on to earn her master's degree in Education from her alma mater in 2001.
In her time as an undergraduate, Hanrahan was a member of the softball team, where her name is etched in many pitching categories in the school record books; she also helped guide the school to its first softball conference championship and was team captain in 2000.
As she was studying for her master's degree, Hanrahan was the graduate assistant coach for the softball team. During her stint as coach, she helped the team to amass the most wins in school history, 42, a MAAC championship and a berth to the NCAA regionals.
Back