Elliott Nets NCAC Player of the Week Accolade
September 5, 2012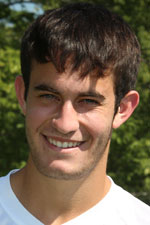 Greencastle, Ind. - DePauw junior midfielder George Elliott (Naperville, Ill./Benet Academy) has been name this season's first recipient of the North Coast Athletic Conference men's soccer player of the week award.
Elliott help start the 2012 campaign last weekend by netting two goals to help the Tigers to a pair of victories in the third annual Robbie Dreher Memorial Wabash Classic.
The season-opener against 20th-ranked Hope College was a back-and-forth tussle throughout. At the end of regulation the score was tied, 2-2, and stayed like that through the first overtime period. In the second overtime period, Elliott settled a Tigers throw-in, turned toward the goal and chipped the ball over an onrushing keeper, finding the back of the net to knock off the Flying Dutchmen.
Elliott would again tickle the twine in a 5-0 drubbing of Monmouth (Ill.) to cap off the opening weekend of play for the Tigers.
The eight team goals scored for the Tigers throughout the two-game Classic is the most in the history of the event for any team in one year, besting the previous record, six, formerly held by Wabash from the 2010 edition of the Classic.
With his two-goal performance, Elliott has already matched his career-high in goals scored in a single season. A three-year letterman, he has amassed four goals and six assists and has seen the Tigers compile a 32-5-3 record in his time on the pitch.
For more information on the DePauw men's soccer program, follow DePauw on Twitter (@DePauwAthletics / @DePauwSoccer) or like them on Facebook (www.facebook.com/DePauwAthletics).
Back