Ellis Named NCAC Player of the Week
September 5, 2012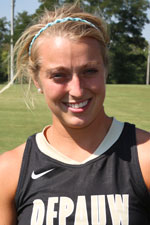 Greencastle, Ind. - DePauw senior forward Margaret Ellis (St. Louis, Mo./Whitfield) has been name this season's first recipient of the North Coast Athletic Conference field hockey player of the week award.
Ellis helped get the Tigers off to a solid, 1-1 start, caging three goals on the opening weekend.
The season-opener against Bridgewater (Va.) saw the Tigers score three goals in five minutes to break the game open. Ellis registered a goal in the 52nd minute to put DePauw up 3-2. Her goal would end up being the difference maker that put the Tigers up for good in a 5-3 victory.
In the final game of the weekend, DePauw faced seventh-ranked Lynchburg. The Hornets jumped out to a 2-0 lead in the 23rd minute before Ellis cut their lead in half off of a beautiful Bridgette Shamleffer (St. Louis, Mo./St. Joseph's Academy) assist. The Hornets would add a goal with just over a minute left in the first half to take a 3-1 lead into halftime.
After the half, the game would go back and forth before Ellis found an opening and rattled the cage for the Tigers second goal of the match, now trailing 3-2. DePauw would be unable to equalize the rest of the way, succumbing to the Hornets by a final tally of 3-2.
With her three-goal performance, Ellis has begun her ascension up the DePauw record book. A two-year letterwinner, she has now amassed 51 goals in her career, tying her for fourth in school history.
DePauw, reigning NCAC co-champions, open conference play on Wednesday, September 5, at 5 p.m.
For more information on the DePauw field hockey program, follow DePauw on Twitter (@DePauwAthletics / @DePauwFH) or like them on Facebook (www.facebook.com/DePauwAthletics).
Back