Ellis Plays Part in Four Goals as Tigers Blank Wittenberg in NCAC Opener
September 5, 2012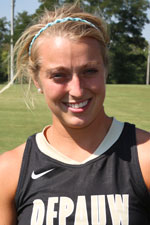 Greencastle, Ind. - DePauw senior Margaret Ellis (St. Louis, Mo./Whitfield) scored three goals and assisted on another as the Tigers blanked Wittenberg in the North Coast Athletic Conference opener for both teams.
DePauw improved to 2-1 with the win, while Wittenberg dropped to 0-3.
Paige Henry (So., Louisville, Ky./Kentucky Country Day) needed just 46 seconds to give the host Tigers the lead for good as she scored on an assist from Maggie Campbell (So., Winnetka, Ill./New Trier). Ellis scored just over three minutes later with help from Chelsea Cutler (Victoria, B.C./Mt. Douglas Secondary).
Bridgette Shamleffer (Sr., St. Louis, Mo./St. Joseph's Academy) closed out the first half scoring and made it 3-0 on Ellis' assist at 26:11.
Ellis made it 4-0 just 32 seconds into the second half with an assist from Grace Goodbarn (Fr., Highlands Ranch, Colo./Mountain Vista). Ellis scored her third goal at 45:16 as Shamleffer assisted before Grace Flickinger (Fr., Winnetka, Ill./North Shore Country Day) scored the game's final goal at 59:54 on Kylie Maloney's (So., Wheaton, Ill./Glenbard West) assist.
DePauw held a 21-0 edge in shots and 13-1 margin in corners. Wittenberg goalie had nine saves, while Maggie Steele (So., Loveland, Ohio/Mt. Notre Dame) was credited with the shutout.
The Tigers return to action on Saturday, September 8, when they face Rhodes in St. Louis.
For more information on the DePauw field hockey program, follow DePauw on Twitter (@DePauwAthletics / @DePauwFH) or like them on Facebook (www.facebook.com/DePauwAthletics).
PICTURED: Margaret Ellis
Back