DePauw Slips to 0-3 after Loss at Carnegie Mellon
September 22, 2012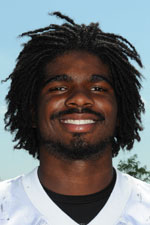 Pittsburgh, Pa. - DePauw's offense totaled 27 first downs, 515 yards and ran 96 plays, but host Carnegie Mellon scored on seven of its first eight drives on the way to a 51-28 victory at Gesling Stadium.

With the loss, the Tigers dropped to 0-3, while the Tartans improved to 4-0 on the season.

For the second straight week, DePauw's opponent scored on the game's first play from scrimmage as quarterback Rob Kalkstein teamed with Timothy Swanson for an 83-yard score on a screen pass down the right sideline.

DePauw took its first possession and drove to the Carnegie Mellon 30 before being stopped on downs and the Tartans converted on a 7-play, 70-yard drive capped by Zachary Erra-Hernandez's 9-yard run which pushed the Tartans' lead to 13-0 with 7:28 left in the first.

Early in the second, Carnegie Mellon extended the lead to 20-0 on Erra-Hernandez's 5-yard run.

DePauw drove deep into Tartans territory on its next series, but Jack Butler forced the Tigers' Kevin Ude to fumble after a catch and Nick Karabin recovered at the Carnegie Mellon 18. Four plays later the Tartans expanded the margin to 27-0 when Kalkstein connected with Tim Kikta for a 65-yard score with 9:05 remaining in the half.

Connor Young's 41-yard field goal with 4:33 left in the half pushed the Tartans' lead to 30-0 before the Tigers reached paydirt with 1:10 left on Justin Murray's 8-yard scoring pass to Bobby Coburn.

The hosts, however, needed just three plays to answer as Kalkstein hit Timothy Swanson for a 40-yard scoring play which made it 37-7 at the half.

Carnegie Mellon's Alexa D'Angelo intercepted Murray on the Tigers' opening drive of the second half and Erra-Hernandez scored on a 16-yard run with 9:19 left in the third.

The Tartans' final score of the day came just 1:44 later when Carnegie Mellon's Alex Basinski recovered a blocked punt in the end zone to make it 51-7.

DePauw did put together three scoring drives in the third and fourth quarters as Murray (pictured) tossed touchdown passes to Taylor Wagner (5 yards), D.J. Steward (25 yards) and Coburn (7 yards).

The Tartans outgained DePauw 534-515 despite running 37 fewer plays. Amen Galley led DePauw with 69 rushing yards on eight carries, while Andrew Cusamano finished with 57 in 12 tries as DePauw gained 193 yards on the ground.

Erra-Hernandez totaled 116 rushing yards and three touchdowns as the Tartans gained 220 on the ground.

Drew Seaman completed 11 of 18 passes for 68 yards before leaving the game with an injury. Murray then completed 20 of 42 for 254 yards and four touchdowns, all of which were career bests.

Kalkstein was efficient with 13-of-15 passing for 314 yards with three touchdowns.

Nikko Sansone, Steward and Wagner each caught six passes with Sansone finishing with 107 receiving yards. Swanson had four catches for 153 yards for the Tartans. while Kikta had three for 95 yards.

Defensively, Jack Quinn led DePauw with 12 tackles, while Robby Schuler had 10. Bryant Alexander led with 2.0 tackles for loss. Karabin and Chris Blomstedt each had 11 stops for the Tartans.

DePauw returns to action on Saturday, September 29, when it hosts Washington University at 1 p.m.

For more information on the DePauw football program, follow DePauw on Twitter (@DePauwAthletics / @DePauwTigersfb) or like them on Facebook (www.facebook.com/DePauwAthletics).
Back