Sprague's Goal in Closing Minutes Lifts Tigers to First Win
September 22, 2012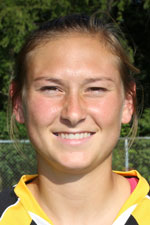 Hiram, Ohio - Dana Sprague's goal with just 2:26 left in regulation gave DePauw a 1-0 North Coast Athletic Conference win at Hiram. The Tigers improved to 1-7 overall and 1-1 in the NCAC, while the Terriers dropped to 3-5-1 overall and 0-1 in conference play.
The score was Sprague's (pictured) team-leading third of the season. DePauw dominated the play as it held a 24-5 advantage in shots, a 13-0 margin in shots on goal and a 14-0 lead in corners.
Caroline Kerr posted the shutout, while Kate Valaitis had nine first-half saves and Kallie Reed totaled three in the second half.
The Tigers host Illinois Wesleyan on Thursday at 7:30 p.m.
For more information on the DePauw women's soccer program, follow DePauw on Twitter (@DePauwAthletics / @DePauwWSoccer) or like them on Facebook (www.facebook.com/DePauwAthletics).
Back