Ellis Scores Three and Assists on Another to Break School Record and Lead Tigers to 12th Straight Win
October 13, 2012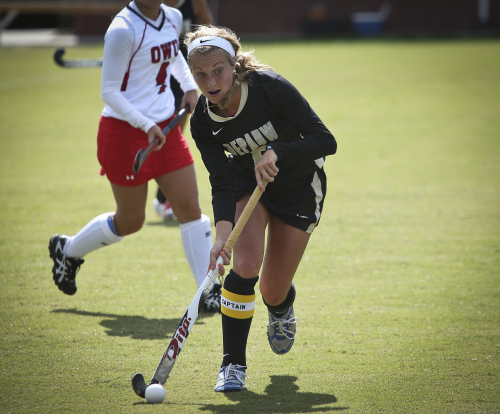 Greencastle, Ind. - Margaret Ellis scored three goals and assisted on a fourth in leading DePauw to a 5-0 North Coast Athletic Conference win over visiting Oberlin. The Tigers improved to 13-1 overall and 10-0 in the NCAC, while the Yeowomen dropped to 3-8 overall and 2-8 in the NCAC.
With her seven total points in the contest, Ellis pushed her career total to 158 which broke the DePauw school record of 156 held by Colleen Konicek (1984-87). Her three goals moved her career total to 69 which is just two shy of tying Konicek's DePauw record.
Ellis scored the Tigers' first goal just 2:26 into the contest before assisting on Paige Henry's score at 6:10. Ellis made it 3-0 at 17:50 with help from Bridgette Shamleffer.
Just 1:17 into the second half, Shamleffer made it 4-0 on Henry's assist before Ellis delivered the record-breaker at 53:30.
DePauw held a 29-1 advantage in shots including 19-0 in shots on goal. DePauw also led in corners, 17-1.
Maggie Steele recorded her 10th shutout, while Kiran Puri totaled 14 saves.
The Tigers host Wooster at Noon tomorrow.
For more information on the DePauw field hockey program, follow DePauw on Twitter (@DePauwAthletics / @DePauwFH) or like them on Facebook (www.facebook.com/DePauwAthletics).
Back