Droddy Wins Second Straight Individual Title; Tigers Finish 16th
October 13, 2012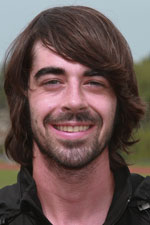 Winneconne, Wis. - DePauw senior Noah Droddy finished ahead of 505 other runners at the University of Wisconsin-Oshkosh's Brooks Invitational and collected his second straight individual title.
Droddy covered the 8-kilometer course in 24:49.15 to help DePauw to a 16th-place finish among the 38 schools.
Dillon Raidt was 139th in 26:51.91 followed by Stu Newstat in 161st in 26:59.36 and Brian Myers in 192nd in 27:15.41.
Noah Gatwood followed in 206th in 27:19.89, while Will Bond placed 247th in 27:41.12 and Elliott Browning finished 301st in 28:07.02.
The Tigers return to action on Saturday, October 27, at the North Coast Athletic Conference Championships in Wooster, Ohio.
For more information on the DePauw cross country program, follow DePauw on Twitter (@DePauwAthletics / @DePauwXCTF) or like them on Facebook (www.facebook.com/DePauwAthletics).
Back