Tigers Finish 21st at Wisconsin-Oshkosh
October 13, 2012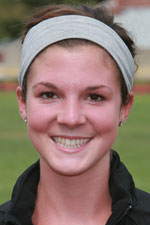 Winneconne, Wis. - Heather O'Brien paced DePauw at the Brooks Invitational by finishing 22nd among 500 runners as the Tigers placed 21st as a team.
O'Brien covered the 6-kilometer course in 22:45.83. Hope Jordan placed 97th in 23:51.14 followed by Ashley Guevara in 103rd in 23:54.41 and Emma Clor in 235th in 25:00.55.
Emily Freiny was 237th in 25:02.26 followed by Sophie Rambaud in 283rd in 25:29.70 and Stefanie Pavlick in 288th in 25:32.85.
The Tigers return to action on Saturday, October 27, at the North Coast Athletic Conference Championships in Wooster, Ohio.
For more information on the DePauw cross country program, follow DePauw on Twitter (@DePauwAthletics / @DePauwXCTF) or like them on Facebook (www.facebook.com/DePauwAthletics).
Back