Two Goals in Less Than a Minute are Difference in Tigers' NCAC Loss
October 13, 2012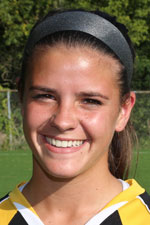 Greencastle, Ind. - Wooster scored a pair of goals in a 56-second span of the second half to break a 1-1 tie and claim a 3-1 North Coast Athletic Conference victory over DePauw at Boswell Field.
DePauw dropped to 2-9-1 overall and 2-2-1 in the NCAC, while the Fighting Scots improved to 9-4-1 overall and 4-0-0 in conference play.
Alyson Marzonie scored her first collegiate goal just 2:07 into the contest on Paige Fehr's assist and gave the Tigers a 1-0 lead.
The lead stood until just 2:40 into the second half when Wooster's Laren Hancher knotted the contest with an unassisted score.
Erika Kay delivered the eventual game winner on Kendal Wong's assist at 73:23 before Paige Piper added the insurance on Kay's assist at 74:19.
Wooster led in shots, 14-10, and held an 8-6 edge in shots on goal. The Fighting Scots also led in corners, 3-2.
DePauw's Caroline Kerr totaled five saves, while Michelle Ring had five for Wooster.
The Tigers return to action on Wednesday, October 17, when it travels to Carthage for a 5 p.m. CDT match.
For more information on the DePauw women's soccer program, follow DePauw on Twitter (@DePauwAthletics / @DePauwWSoccer) or like them on Facebook (www.facebook.com/DePauwAthletics).
Back