DePauw Blanks Earlham to Claim NCAC Title
October 18, 2012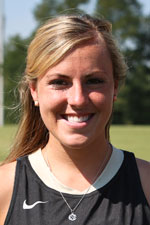 Richmond, Ind. - In a resumption of yesterday's suspended match, DePauw blanked Earlham, 5-0, and captured the North Coast Athletic Conference regular season title.
The Tigers improved to 15-1 with its 14th straight win and sixth consecutive shutout. Earlham dropped to 0-14 overall and 0-12 in the NCAC.
On Wednesday, Margaret Ellis scored the game's first goal on Bridgette Shamleffer's (pictured) assist at 26:27 before Shamleffer made it 2-0 with an assist from Maggie Campbell at 38:18. The game was delayed multiple times due to lightning before being suspended.
In today's finish, Shamleffer quickly made it 3-0 on Paige Henry's assist at 38:36. Kate Jovanovic scored at 55:08 on Grace Goodbarn's assist before Micheline Figel rounded out the scoring at 56:01 with an unassisted score.
DePauw held a 32-0 edge in shots including 27 on goal. The Tigers also had a 15-0 advantage in penalty corners.
Maggie Steele notched the shutout for the Tigers, while Emma Treece had 22 saves for the Quakers.
The Tigers, who shared the 2011 NCAC regular season title, return to action on Saturday, October 20, when they host Denison at 11 a.m.
For more information on the DePauw field hockey program, follow DePauw on Twitter (@DePauwAthletics / @DePauwFH) or like them on Facebook (www.facebook.com/DePauwAthletics).
Back