Paced by Droddy's Second-Place Showing; Tigers Finish Fifth at NCAC Championships
October 27, 2012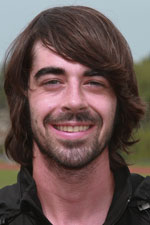 Wooster, Ohio - Noah Droddy finished second at the North Coast Athletic Conference Championships and led the Tigers to a fifth-place team finish with 140 points. Allegheny won with 29 points.
Droddy (pictured) covered the 8K course in 25:38.3 which was just 2.4 seconds behind winner Bobby Over of Allegheny. Dillon Raidt was 27th in 27:35.5 followed by Stu Newstat in 32nd in 27:45.3 and Brian Myers in 39th in 27:55.1
Noah Gatwood was 45th in 28:10.1, while Will Bond finished 61st in 28:40.3 and Jim Easterhouse was 62nd in 28:41.5.
DePauw returns to action on Saturday, November 10, when it competes in the NCAA Regional in Anderson, Ind.
For more information on the DePauw cross country program, follow DePauw on Twitter (@DePauwAthletics / @DePauwXCTF) or like them on Facebook (www.facebook.com/DePauwAthletics).
Back