Ellis Breaks Goals Record; Tigers Finish Perfect NCAC Regular Season
October 27, 2012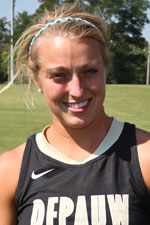 Greencastle, Ind. - It was a record-setting day at Blackstock West Field as DePauw wrapped up North Coast Athletic Conference regular season play with a 4-1 win over Kenyon.
The Tigers improved to 17-1 with their 16th straight win and finished NCAC play at 14-0 to become the first team to go through NCAC play undefeated since Wooster went 12-0 in 2006. The Ladies dropped to 8-10 overall and 7-7 in conference.
Bridgette Shamleffer gave DePauw a 1-0 lead on Maggie Campbell's assist just 7:03 into the contest before Margaret Ellis made it 2-0 with Campbell's second assist at 10:23.
Ellis (pictured) then broke the DePauw career goals record with her 72nd at 15:01. The score topped the 25-year old mark of 71 held by Colleen Konicek (1984-87).
Ellis notched her fifth hat trick of the season and 10th of her career at 51:27 with Kate Jovanovic's assist at 51:27. Rachel Hall's score with just under two minutes left on Maddie Breschi's assist was Kenyon's lone goal of the contest.
With the win, DePauw matched the school record for wins in a season, joining the 1987 and 1999 teams with 17.
DePauw hosts a semifinal game of the NCAC Tournament on Wednesday at 3 p.m. against a team to be determined.
For more information on the DePauw field hockey program, follow DePauw on Twitter (@DePauwAthletics / @DePauwFH) or like them on Facebook (www.facebook.com/DePauwAthletics).
Back