DePauw Hosts Hiram in NCAC Semifinal Game Tonight
November 1, 2012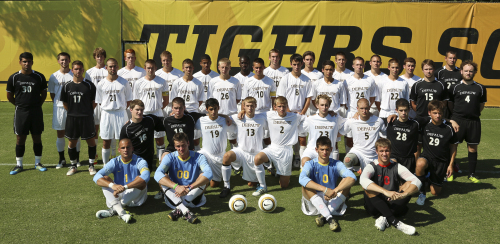 Greencastle, Ind. - For the second straight year, the DePauw men's soccer team opens North Coast Athletic Conference Tournament play against Hiram College as the Tigers and Terriers square off at Boswell Field at 6 p.m. tonight.
Tickets, which are available at the game, are $7 for adults and $3 for children 18 and under. Students at NCAC institutions are admitted free of charge by showing their college ID.
Live stats for the contest are available here, while D3TV will provide video and WGRE audio.
DePauw, 12-1-4, earned the tournament's second seed by finishing NCAC play with a 6-1-2 record, while Hiram, 15-2-1, is the third seed with a 6-2-1 conference mark. DePauw's lone loss this year was at Hiram on September 22 as the Terriers topped the Tigers, 3-2. The Tigers led 2-1 before the Terriers scored late in the first half and early in the second for the win. DePauw's ties came against Kenyon and Wooster, while Hiram dropped matches to Allegheny and Kenyon and tied Ohio Wesleyan.
Andy Morrison leads the Tigers with nine goals, while Nate Snyder has chipped in seven. George Elliott has delivered a team-high six assists on the season. Tony Halterman has started all 17 matches in goal with a 0.83 goals against average.
Andy Harding leads Hiram with 13 goals, while Ryan Minik follows with six. Minik leads the team with nine assists and Ryan Greenhill has eight. Joe Rottinger has seen the majority of time in goal for the Terriers with a 1.21 goals against average. Kirby Rice has started four games between the pipes and has a 0.22 goals against average.
The winner of tonight's game will go on to play the winner of this evening's other semifinal game, Kenyon at Ohio Wesleyan. The NCAC championship game is slated for Saturday on the campus of the higher seeded team.
For more information on the DePauw men's soccer program, follow DePauw on Twitter (@DePauwAthletics / @DePauwSoccer) or like them on Facebook (www.facebook.com/DePauwAthletics).
Back