AXS TV Preps for Saturday's 119th Monon Bell Classic; Rice, Maguire Again in Booth
November 5, 2012
Ticket Information; Monon Bell Page; Pre-Order DVD Online; View 'Monon Memories'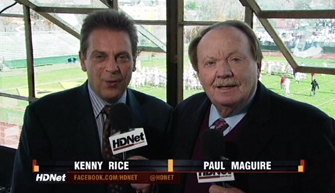 When the DePauw University Tigers and Wabash College Little Giants take the field Saturday for the 119th time in one of college football's greatest rivalries, a national television audience will again be looking in. Play-by-play announcer Kenny Rice and veteran analyst and former NFL player Paul Maguire will be in the broadcast booth at Hollett Little Giant Stadium in Crawfordsville as AXS TV airs the Monon Bell Classic for the seventh consecutive year. Kickoff is at 1:07 p.m. (photo: Rice and Maguire at last year's DePauw-Wabash game)
Formerly known as HDNet, the network has televised the DePauw-Wabash game every year since 2006 and also covered the 2003 game. Rice and Maguire will be joined by Brad Wochomurka, a 2004 DePauw University graduate and former Tiger

football player, who will provide updates from the sidelines along with his Wabash counterpart, Matt Hudson.
Tickets are still available for Saturday's game at the athletic department office in the Lilly Center from 9 a.m. to 3 p.m. (cash only). Information can be found in this article.
The 119th Monon Bell Classic will be the seventh in the historic rivalry that Kenny Rice has called. The veteran sportscaster has worked with NBC, ESPN, and FSN at various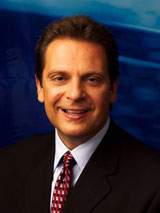 times during his career. He has covered numerous college football, basketball, and baseball games and served as a boxing reporter at the 2004 Olympic Games and an equestrian reporter during the 2008 Olympics. Rice has also been a reporter for NBC's Football Night in America covering weekly NFL games. Rice has done play-by-play for AXS TV since 2003.
Paul Maguire, who has covered the last two Bell battles, went from an NFL career to becoming one of the nation's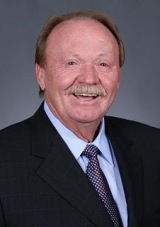 best-known football analysts. His résumé includes covering four Super Bowls (XXII, XXIII, XXVII and XXX) over a broadcast career of more than 40 years. He served as a member of NBC's lead NFL broadcast team with Dick Enberg, provided color commentary for ESPN's NFL Sunday Night Football, and worked as an analyst for college football on ABC. Maguire had an 11-year professional football career as a punter and linebacker for the San Diego Chargers (1960-63) and Buffalo Bills (1964-70), during which time he played in six American Football League championship games. He was a member of three AFL championship teams (1963-65), and was named to the Bills' Silver Anniversary All-Time Team as a punter in 1984. Maguire is one of only 20 players who were in the AFL for its entire 10 season existence.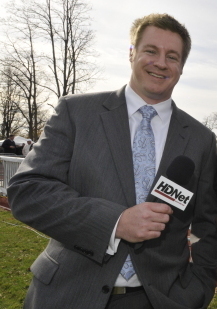 He is a member of the Greater Buffalo Sports Hall of Fame.

[Download Video: "2007 Monon Memory" - 7808kb]
Saturday's contest marks the third time Brad Wochomurka has served as DePauw's sideline reporter on the national Monon Bell telecast. Wochomurka was a communications major and Media Fellow at DePauw where he played wide receiver for legendary football coach Nick Mourouzis. As a broadcaster, he has covered numerous professional and college sporting events and spent time as a drive-time sports talk radio host. Wochomurka continues to work as a freelance broadcaster while serving as a channel sales manager for ExactTarget, an interactive marketing agency in Indianapolis.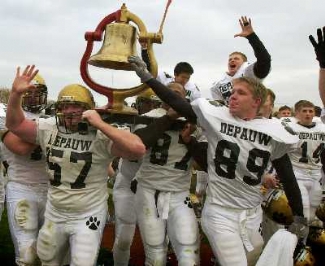 Homes and retail establishments across America will be able to tune in the game on AXS TV, and there will again be telecast parties arranged by DePauw and Wabash alumni in more than 60 cities across the nation.
AXS TV is available in the U.S. via AT&T U-verse, Charter, Comcast/Xfinity, DIRECTV, DISH Network, Insight, Suddenlink, Verizon FiOS, and other TV providers. AXS TV can be found online at www.axs.tv, on Facebook at facebook.com/axstv and on Twitter at axstv.
Saturday's game will become the fifteenth contest in the historic series to be captured on DVD. Also available are the discs of the 1977, 1994 and 2000-11 Monon Bell Classics (supplies of past games are extremely limited; the 2008 package is a two-disc set including all 115 "Monon Memories" produced to that date). An "early bird" discount is available for orders placed before game day. Learn more here.
The two schools first met on the gridiron in 1890. Wabash leads the all-time series 56-53-9, while the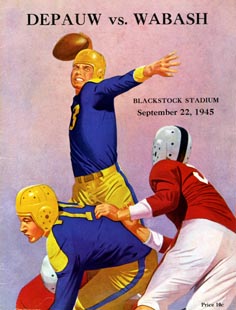 record in games played since the Monon Bell entered the rivalry in 1932 is even at 37-37-6.
The Monon Bell was voted Indiana's best college sports rivalry by fans of ESPN, and is noted in the DVD collection, ESPNU Honor Roll: The Best of College Football, as one of the nation's best annual clashes. Past games have been televised on ESPN2 and ABC, and the Monon Bell was featured on CBS' Sunday Morning and has twice been spotlighted in Sports Illustrated. The annual DePauw-Wabash clash is also detailed in Rites of Autumn: The Story of College Football, a book by Richard Whittingham. (at right: cover of the 1945 game day program)
Access DePauw's Monon Bell Web page here.
A complete roster of "Monon Memories" -- video highlights of past classics -- can be found here.
Back