Newspapers, TV Station Preview the 119th Monon Bell Classic
November 9, 2012
Game Day Info; Monon Bell Page; Pre-Order DVD Online; View 'Monon Memories'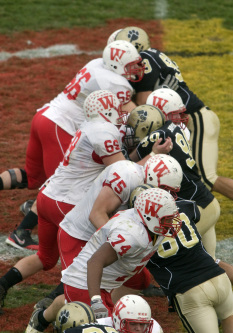 "When two teams have played 118 times and every year since 1911, it might be tough to add more intensity to a rivalry game. But the 119th Monon Bell game will have it," writes Jonathan Batuello in this morning's Fort Wayne News-Sentinel. "When DePauw (2-7) and No. 25 Wabash (7-2) meet Saturday in Crawfordsville, it will be the first time since 1997 the two teams are playing a conference game."
The piece, which includes comments from DePauw's interim head coach Scott Srnka, notes, "The conference game is the first in 15 years since the two teams were members of the Indiana Collegiate Athletic Conference (now known as the Heartland Collegiate Athletic Conference). DePauw left the conference in 1998 and Wabash left in 1999. Then two years ago, DePauw joined Wabash in the Northern Collegiate Athletic Conference, with football becoming a member this year after fulfilling previous schedule agreements last season. In the first NCAC meeting, Wabash comes in with a three-game winning streak in the series. The Little Giants have dominated the past three years by a combined 124-26 score. DePauw will rely on a passing attack featuring a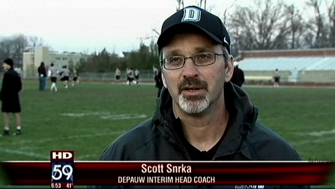 dual-quarterback system to try and change recent history. Tigers' sophomore Drew Seaman and freshman Justin Murray have combined for 2,092 yards in the air."
Access the article by Batuello, a 2010 DePauw graduate -- "The best rivalry in college sports just got better" -- at the News-Sentinel's website.
In Columbus, Indiana's Republic today, Jay Heater writes, "When Columbus East High School graduate Mitch Dwenger showed up at DePauw in Greencastle three football seasons ago, he thought the Monon Bell Classic was just another rivalry game. Then he played in it. 'You don't understand until you get there,' Dwenger said Wednesday before going to prepare for his third Classic, at 1 p.m. Saturday at Wabash's Little Giants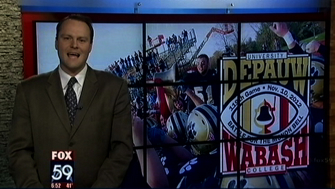 Stadium in Crawfordsville. 'This is the biggest game of our season, for sure. It's everything. It's what matters.' "
You'll find that story -- "Not just another football rivalry: Respect, pride define Monon Bell Classic" -- (a subscription is required to view the full text) here.
DePauw's preparations for Saturday's big game were seen on Indianapolis Fox affiliate WXIN-TV last night. The piece includes comments from interim head coach Scott Srnka and senior linebacker Cody Crooke. It is embedded below, with more video at the station's website.
Another two game previews by Barry Lewis are published in today's Crawfordsville Journal Review.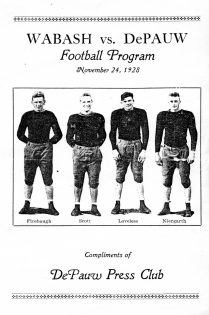 They can be read here and here.
Kickoff is at 1:07 p.m. tomorrow at Hollett Little Giant Stadium. Gates open at 11 a.m. and all spectators will need to have a ticket to enter. DePauw is selling tickets today from 9 a.m.-3 p.m. in the department of athletics office in the Lilly Center. Tickets will also be available Saturday at the stadium beginning at 11 a.m. for $15 until the opening kickoff or supplies are exhausted. (at left: cover of the game day program from 1928)
AXS TV is televising the contest to a nationwide audience. WGRE (91.5 FM) will carry the game live to West Central Indiana and online at wgre.org.
Saturday's game will become the fifteenth contest in the historic series to be captured on DVD. Also available are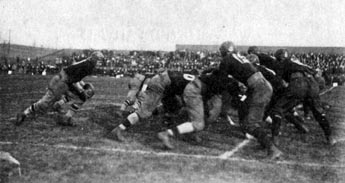 the discs of the 1977, 1994 and 2000-11 Monon Bell Classics (supplies of past games are extremely limited; the 2008 package is a two-disc set including all 115 "Monon Memories" produced to that date). An "early bird" discount is available for orders placed before game day. Learn more here (picture at right from the 1916 DePauw-Wabash game).
The two schools first met on the gridiron in 1890. Wabash leads the all-time series 56-53-9, while the record in games played since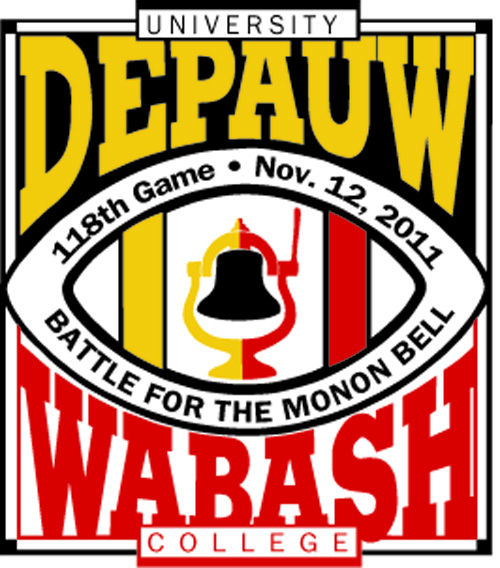 the Monon Bell entered the rivalry in 1932 is even at 37-37-6.
Access DePauw's Monon Bell Web page here.
A complete roster of "Monon Memories" -- video highlights of past classics -- can be found here.
Back