Tigers Set for NCAA Semifinal Play
November 16, 2012
LIVE STATS | LIVE VIDEO | WGRE BROADCAST | OFFICIAL NCAA SITE | DEPAUW NOTES | BROADCAST CARD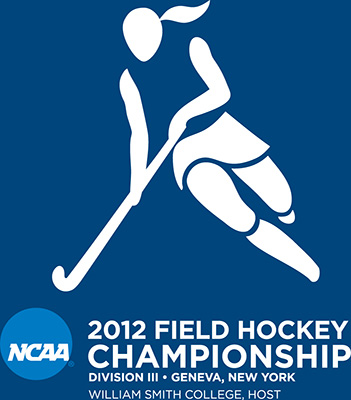 Greencastle, Ind. - After Sunday's 2-1 overtime win over top-ranked, top-seed and undefeated Middlebury in the NCAA Division III Field Hockey third round, DePauw has advanced to the national semifinals for the first time in school history.
The Tigers (21-1) square off with 10th-ranked Tufts University (17-2) in the first semifinal game at 11 a.m. on Saturday, November 17, on McCooey Field at William Smith College in Geneva, N.Y.
Saturday's 2 p.m. semifinal contest pits third-ranked and third-seeded Mary Washington (20-1) against second-ranked and second-seeded Montclair State (21-1).
The winners face off in Saturday's 1 p.m. championship match.
DePauw earned a spot in the 24-team field by winning the North Coast Athletic Conference Tournament with a 2-0 win over Denison on November 3. The Tigers earned a first-round bye and then topped Utica by a 3-2 score in one overtime in the second round before the win over Middlebury.
DePauw leads the nation with a 0.54 goals against average including a Division III leading 15 shutouts. The Tigers also lead the country with a 3.2 scoring margin.
Margaret Ellis paces DePauw with 27 goals and is second with 10 assists for a team-best 64 points. Ellis has delivered a team-high seven game winners.
Bridgette Shamleffer is next with 16 goals and 36 points, while Paige Henry follows with 13 goals and 35 total points along with six game winners including the one against Middlebury. Maggie Campbell leads with 11 assists. Maggie Steele has played every minute in goal and leads the country in goals against average (0.54) and shutouts (15) and is coming of a career-best 13 saves in the win over Middlebury.
Tufts earned one of seven at-large berths into the Championship after falling to Bowdoin, 4-1, in the New England Small College Athletic Conference semifinals.
The Jumbos opened NCAA play with an 8-0 home win ovver Castleton. Tufts then topped host and fourth-seeded William Smith in the second round by a 4-2 score before avenging the previous loss to Bowdoin and earning a spot in the semifinals with a 2-1 quarterfinal victory.
Chelsea Yogerst leads Tufts with 13 goals, while Kelsey Perkins follows with 10. Rachel Gerhardt is the team leader with seven assists. Brianna Keenan ranks ninth in the nation with a 1.04 goals against average.
TIGER TEAM NOTES
DePauw has not been shut out this season marking the fourth time in school history it's happened (1972, 1999, 2008) … three of DePauw's four all-time NCAA games have been decided in overtime … the Tigers' lone loss came to then seventh-ranked Lynchburg in the second game of the season and DePauw has won 20 straight since … DePauw's 83 goals this season are tied for second in school history with that of the 1987 team, while the 1988 squad holds the record with 91 … the Tigers' 45 assists rank second in school history behind the 54 in 1999 … DePauw's 15 shutouts this year matches the school record previously set in 1999 … the Tigers' 0.54 goals against average is second only to the 1999 team's 0.44 mark … DePauw's 62 wins in the last four years equals the third-most wins by a DePauw senior class, while the .765 winning percentage (62-19) is fourth … the Tigers' 21 wins broke the previous single-season record of 17 set in 1987 and 1999.


DePauw's NCAA Appearances
Date
Opponent (Round)
Result
11/2/1990
at Bloomsburg (1)
L, 1-8
11/6/1999
vs. Rowan at Springfield (2)
L, 1-2 (1 ot)
11/10/2012
vs. Utica at Middlebury (2)
W, 3-2 (1 ot)
11/11/2012
at Middlebury (3)
W, 2-1 (1 ot)
Back