Tigers' Late Rally Not Enough in Loss to Thomas More
November 17, 2012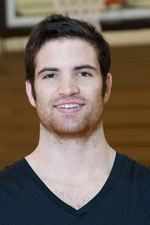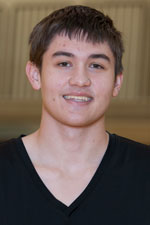 Cincinnati, Ohio - DePauw erased a 10-point Thomas More lead with four minutes left, but the Saints hit two free throws with 12 seconds left to take an 80-79 win over the Tigers in the College of Mount St. Joseph Tipoff Classic. DePauw dropped to 0-1, while the Saints improved to 2-0.
The teams battled through a tight first half that included six ties and four lead changes and ended with Thomas More leading, 39-38.
The Saints quickly pushed the lead to eight early in the second half before DePauw battled back to tie the contest at 58-58 on Tommy Fernitz's layup with 11:00 left.
Thomas More used a 7-0 run later in the half to take a 76-66 lead with 4:57 remaining. Connor Rich (above near left) hit a free throw with 3:55 left and Barry Flynn (above far left) scored on an offensive rebound after the Rich missed the second free throw to trim the margin to seven.
The Saints' Brandon Housley countered with a layup to push the lead back to nine at 78-69. Fernitz scored a layup and Frank Patton III delivered a three-point play with 2:36 left to close the gap to 78-74.
After Thomas More missed two free throws, Flynn cut the lead to 78-76 on a jumper with 1:32 remaining. The Saints missed on their next possession before the teams exchanged turnovers. Rich nailed a three with 14 seconds left to give the Tigers their first lead of the second half.
It was short-lived, however, as D'Carlo Hayes hit two free throws with 12 second left and Rich's three as time expired was off the mark.
Rich scored a career-high 22 and Flynn matched that as both hit 8 of 11 from the floor. Fernitz hauled down nine rebounds as DePauw held a 35-28 advantage on the glass. Patton and Rich each handed out five assists. The Tigers shot just under 60 percent from the floor, totaled 21 turnovers which the Saints turned into 25 points.
Hayes and Ethan King each scored 16 for the Saints, while Drew Mumford added 14 and Housley 12. Housley hauled down nine for the Saints and Hayes dished out five assists.
DePauw faces Mount St. Joseph tomorrow at 3 p.m.
Back