DePauw Advances to Rokicki Title Game with Win over Panthers; Franklin Tops Albion in Game Two
November 24, 2012
Tournament Site | DePauw vs. Purdue-North Central Box | Franklin-Albion Box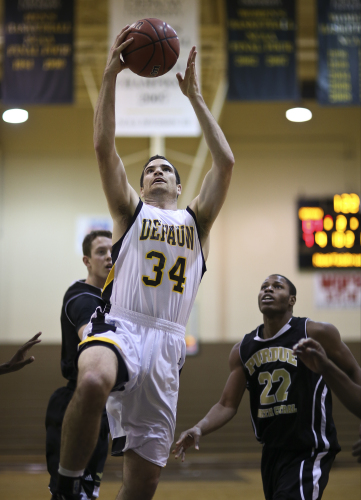 Greencastle, Ind. - DePauw (2-1) jumped out to a 15-2 lead in the opening 6:26 and never trailed on the way to a 71-54 win over Purdue-North Central (3-5) in the opening game of the Mike Rokicki Community Versus Cancer Challenge.
The Tigers will play Franklin (1-1) in tomorrow's 4 p.m. title game after the Grizzlies defeated Albion (1-2), 76-70, in tonight's second game.
DePauw broke free from a 2-2 tie with 13 straight points capped by Connor Rich's three with 14:34 which gave the Tigers a 15-2 advantage. That lead reached as many as 17 at 24-7, but the hosts went cold from the floor with 16 misses in their final 17 field goal tries of the half. The Panthers closed to within two, 29-27, at the intermission.
The Tigers reversed that trend early in the second half as they knocked down three-pointers on three of their first four possessions and opened with a 19-2 run to extend the lead to 48-29 with 13:52 remaining.
DePauw led by as many as 25 the rest of the way and the Panthers got no closer than 14.
Barry Flynn (pictured) led DePauw with 16 points and seven rebounds, while Camron Burns added 15 points. Frank Patton III dished out a career-best eight assists in the win.
Vincent Parker and Cwon Terrell each scored 12 for Purdue-North Central with Parker hauling down seven rebounds.
In the nightcap, Franklin scored 14 straight to erase an early deficit and take an 18-6 lead. Albion closed to within three before the Grizzlies went to the break with a 39-32 advantage.
The Britons briefly took the lead in the second half with a 12-3 run, but Franklin had a 14-1 stretch to push the margin back to 12 with just over five minutes remaining. Albion got as close as four with just under three minutes left, but Franklin held on for the win.
Troy Porter and Gunner Erwin each scored 17 for Franklin, while Bailey Howard added 15. Erwin hauled down a team-high eight rebounds.
Mike Smith, Jordan Herron and Alex Harville each scored 12 for Albion with Herron adding 11 for a double-double.
For more information on the DePauw men's basketball program, follow DePauw on Twitter (@DePauwAthletics / @DePauw_MBB) or like them on Facebook (www.facebook.com/DePauwAthletics).
Back